44 Patient Transfer Journeys 'Axed By Ambulance Service Each Day'
5 August 2017, 07:35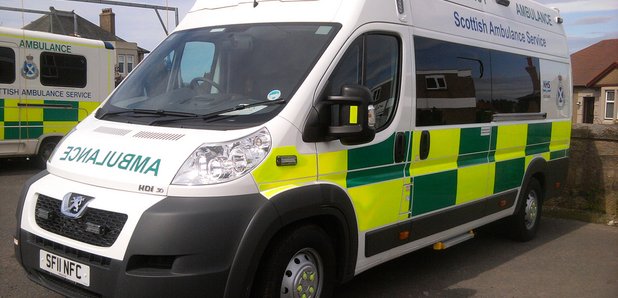 Hundreds of ambulance journeys for patients are cancelled every week as a result of rising demand, staff absence and resource shortages, new figures have revealed.
The Scottish Ambulance Service cancels an average of 44 Patient Transport Service (PTS) journeys a day, according to statistics obtained by the Scottish Conservatives.

The PTS uses ambulances to take patients to hospital on a non-emergency basis.

Around 16,000 journeys were cancelled in the year to May, the latest month for which figures are available, down from around 21,000 the previous year - but up on the 2014/15 total of around 10,000.

Of the 16,065 journeys cancelled in the last year, 4,296 were scrapped on the day of the planned journey.

These figures do not include occasions where the journey has been cancelled by the patient.

Responding to the party's freedom of information request, the ambulance service said there were three reasons for the cancelling of journeys - when "demand exceeds the number of available resources", unexpected staff absences, and when specialist equipment required such as a stair lift is not available.

The service said cancellation is a "last resort" and 59 ambulance care assistants are currently being recruited and trained to fill vacancies to help cut the number of journeys axed, while shift patterns are being reviewed to ensure best use of resources.

The statement continued: "We have very little control over both the volume and category of PTS transport requests we receive every day.

"Furthermore, whilst resources are configured to reflect the general flow of patients across Scotland on a daily basis, there are an increasing number of ever-changing variables which are impacting on our ability to respond to daily demands, including patients who require specialist responses, an increasing number of patients travelling further distances, namely to health board areas out-with their own for specialist care, and an increasing number of transport requests made on the day of travel."

The service said new systems are being implemented to ensure most effective use of resources.

Conservative health spokesman Miles Briggs said: "The ambulance service is very clear that hundreds of these crucial journeys are being cancelled every week as a result of resources.

"Ambulance workers themselves are doing their best to ensure vulnerable patients can get to hospital on time but demand is far outstripping supply, and this is just another example of the SNP Government failing to plan for the future."

He said the Scottish Government has to work with the ambulance service to improve the cancellation rate.

A Scottish Ambulance Service spokesman said: "In the last year, the service successfully undertook almost 780,000 patient transport journeys, ensuring patients were able to attend their hospital appointments and return home or to their place of care.

"We understand how important it is for patients to attend their appointments and do all we can to make sure we do not have to cancel journeys.

"Before a patient journey is cancelled, we take consideration of the department the patient is attending, the condition of the patient, the nature of their appointment and whether they have had challenges accessing our service previously."

The spokesman said the service would continue to engage with patients, communities, health boards and staff across Scotland to "explore new ways of working".

A Scottish Government spokesperson said: "We would expect the ambulance service to strive to transport all clinically appropriate patients to their hospital appointments and, where this is not possible, patients should be signposted to alternative transport providers to ensure they can make their appointment.

"The Scottish Government has invested an additional £6.3 million in the ambulance service for 2017/18 to help the service deliver its Towards 2020 strategy. This includes the recruitment of additional staff, including ambulance care assistants who provide the patient transport service."