Aamer Anwar Installed As University Of Glasgow Rector
20 April 2017, 07:12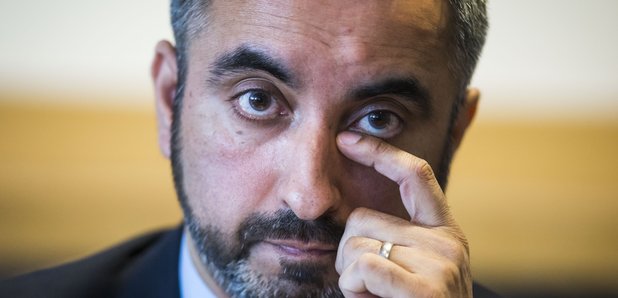 Human rights lawyer Aamer Anwar has been installed as the rector of one of the country's oldest universities.
The prominent solicitor will hold the post at the University of Glasgow for three years, taking over from US whistleblower Edward Snowden, who has come to the end of his symbolic tenure.
Mr Anwar was elected following a landslide student vote in his favour.
The nine other hopefuls included Former Liberal Democrat business secretary Sir Vince Cable, Lady Hazel Cosgrove, the first woman to be appointed a judge of the Court of Session in Scotland, and controversial right-wing journalist Milo Yiannopoulos.
Mr Anwar was installed as rector in a ceremony at the university's Bute Hall on Wednesday evening.
Ameer Ibrahim, president of Glasgow University Students' Representative Council, said: "The student body are very happy to see him installed as rector at the university. He delivered a very emotive speech that outlined a lot of political topical areas in relation to equality and diversity and the freedom of movement of people, reflecting Glasgow as an international institution.
"In relation to the student body at Glasgow we feel very confident that we've elected a rector who will reflect our best interests in these times when there is limited funding for the student body and we feel he will be a strong voice in the institution's governing body.
"The ceremony was very well attended and we were very pleased to see the turn out which reflected a very engaging election.''
Speaking after he was elected Mr Anwar, a Glasgow graduate, said the students had chosen an ''active, working'' representative.
Following the announcement, he said: ''It is truly humbling that the students of Glasgow University have entrusted me as their next rector.
''It is a great honour to walk in the footsteps of the late Jimmy Reid, Edward Snowden, Mordechai Vanunu.
''You can spend all the millions you want on bricks and mortar, but it is our students and staff who make Glasgow University the world class institution it is.''
Other previous rectors include former Liberal Democrat leader the late Charles Kennedy, actor Richard Wilson and Winnie Mandela.
The post of rector involves a number of key duties to represent students.
They include attending meetings of court - the governing body of the university - and bringing student concerns to the attention of university bosses.
Mr Anwar, who was brought up in Liverpool, has his own criminal defence practice in Glasgow.