A&E departments record worst waiting-times figures since February 2015
9 January 2018, 10:36 | Updated: 9 January 2018, 12:18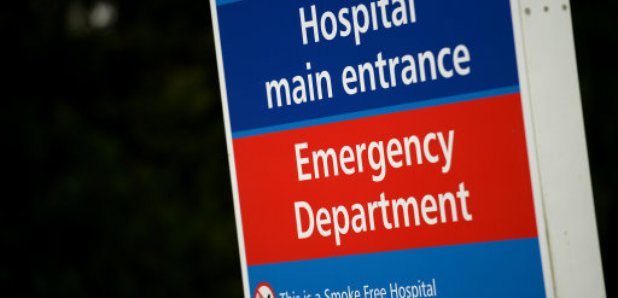 Scotland's accident-and-emergency (A&E) departments have recorded the worst performance against a key waiting target since weekly reporting began.
The latest figures for the Christmas period - the seven days ending December 31 - show 78% of patients were seen and either admitted, transferred or discharged within four hours, well below the Scottish Government's 95% target.
The figure is the lowest since the weekly reporting of A&E performance began in February 2015 and compares to 92.5% in the comparable week the previous year.
A total of 1,156 patients spent more than eight hours in an emergency department while 272 waited for more than 12 hours.
The poorest-performing board was NHS Forth Valley, with the Forth Valley Royal Hospital recording 57.3% against the target.
The latest figures come as departments face increased pressures due to an upsurge in flu cases and patients with complex care needs, with recent figures showing flu rates in Scotland doubled in December.
The Scottish Ambulance Service reported an almost 40% increase in the number of calls on Hogmanay alone while NHS 24 received more than 45,000 calls in the four days over Christmas - almost double the number in the same period last year.
All those eligible for the flu vaccine are being urged to take up the offer to help ease the strain on services.
Dr Dan Beckett, Scottish representative of the Society for Acute Medicine, said: "Falls and slips as a result of the icy weather and public holidays have put pressure on hospitals and A&E departments, however flu has had a significant additional impact on most acute medical units this winter.
"We are seeing numbers of patients requiring admission to hospital at a scale we haven't seen for several years and patients who are frail, or have other medical conditions, are requiring several days in hospital before they are able to be discharged.
"While we do not want any delay to patient treatment, ensuring that patients with flu are admitted to, and cared for in the right place must always come first - the clinical needs of our patients is paramount.
"Overall, clinicians in acute medical units across Scotland are working incredibly hard, with fantastic teamwork, to deliver high-quality care to our patients despite exceptional pressures."
Health Secretary Shona Robison thanked NHS staff and patients for their hard work and patience, and highlighted that Scotland's A&E departments were outperforming those across the rest of the UK.
She said: "I've heard an overwhelming number of reports from clinicians about how flu and respiratory illness, combined with other winter pressures and exceptional and sustained levels of demand, is changing the way they are treating patients arriving at A&E.
"It is crucial that patients with complex care needs and flu receive the right care, not simply the fastest.
"It will take some time for services to recover from the pressures being felt this winter and for the spikes in flu levels to subside - however we are working to provide support to boards wherever they might need it, alongside the £22.4 million investment the Scottish Government has already made available for winter contingencies, to ensure demand is appropriately managed."
NHS Forth Valley said it had been dealing with a "significant" increase in the number of patients with flu and other respiratory illnesses.
Medical director Andrew Murray said: "We are sorry that a number of patients have experienced longer waits during this busy period and we are doing everything possible to reduce delays.
"All patients attending the emergency department are assessed and those with more urgent or serious health issues continue to be given priority.
"Many patients attending the emergency department will also undergo tests and start treatment while they wait to admitted or discharged."
Scottish Conservative health spokesman Miles Briggs said the figures were "nothing short of a disgrace".
He said: "Just when you think the SNP's performance on this cannot get any worse, new statistics come out showing further regressions.
"The situation is so bad now that, in some health boards, barely half of A&E patients were seen on time."
Lib Dem MSP Alex Cole-Hamilton said: "NHS staff are working incredibly hard and health boards are having to take unprecedented measures to keep services afloat.
"Patients and staff will be hoping that these figures shatter the SNP government's complacency when it comes to tackling the challenges facing our health service."
Labour health spokesman Anas Sarwar said: "The A&E figures for the festive period are some of the worst in memory.
"No wonder Nicola Sturgeon felt the need to apologise, but it will be a hollow apology without meaningful action.
"That's why Labour is the only party to set up a workforce commission to tackle the staffing crisis in our NHS.
"The health service needs more than sticking-plaster solutions. It needs a plan for long term real change."