'Amazing Experience' For Ewan McGregor Reuniting With Trainspotting Cast
23 January 2017, 06:43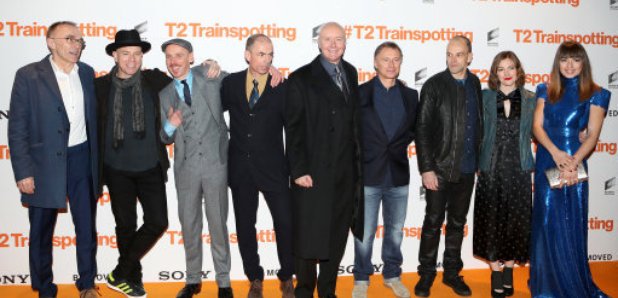 Ewan McGregor has described reuniting with his fellow Trainspotting stars to reprise their original characters in the sequel as an "amazing'' experience.

The actor also said he has done the best work of his career for director Danny Boyle, with whom he still has a "wonderful dynamic''.
McGregor was joined by Boyle and his co-stars Jonny Lee Miller, Robert Carlyle and Ewen Bremner, in Edinburgh for the world premiere of T2 Trainspotting on Sunday.
They were greeted by the crowds as they walked the orange carpet ahead of the showing at Fountain Park, which was also attended by Trainspotting original cast member Kelly Macdonald and Anjela Nedyalkova - who plays the lead female character Veronika in T2.
The sequel comes 21 years after the first film, which followed a group of heroin addicts and explored urban poverty in Scotland's capital.
It is based on the novel of the same name by Irvine Welsh, with T2 based on his book Porno.
Set in the present day, the main characters - Renton (McGregor), Sick Boy (Jonny Lee Miller), Spud (Ewen Bremner) and Begbie (Robert Carlyle) are now middle-aged.
"It is quite daunting to come back to a character who is so well known and loved,'' said McGregor.
"Like all of the characters in Trainspotting, they are people who we feel like we know.
"They are like people who we have really met in life - Begbie, Sickboy, Spud and Diane.
"It was sort of daunting, but I am Renton, and Renton is me.
"I haven't lived in Scotland since I was 17 years old and there was a sort of trepidation about coming back, thinking maybe I don't have it any more, but then Renton hasn't been in Scotland for 20 years either because he's been in Amsterdam, so our stories are not dissimilar I guess.''
McGregor, who made his international breakthrough with the first film, also spoke fondly of reuniting with Boyle and his castmates, despite not having seen some of them in the intervening years.
He added: "It was very lovely to work with Danny again. I didn't feel like that had changed. The dynamic there was wonderful, and I found him to be a director who pushes you.
"He is somebody I have done my best work for, I think he pulls great work out of actors. He knows how to do that somehow.
"Just being back with these characters again. Looking back into the eyes of Sickboy again, looking into the eyes of Spud, Begbie and Diane.
"It was amazing. That was the best bit, they are like people we know.''
Unlike the first film, which was mostly shot in Glasgow, much of the sequel was filmed in Edinburgh.
The cast and crew were seen working at various locations across the city last year.
Boyle said: "We wanted to make the film here and we felt a real responsibility towards that, because these stories have been responsible for a lot of our careers really.
"So you feel an obligation, a pleasurable obligation.''
He added: "They (the cast) are amazingly experienced now.
"They stepped back into the roles...they factored in their own 20 years of experience into their characters and they were off and on their way.
"The past is alive in all of us really. It's in a telescope, and depending on which end of the telescope you look at, it's either there or it's gone, it's distant, and it preoccupies you more and more in life.
"So it was to get them (the characters) to reflect on that but hopefully in an entertaining and surprising way, and in an emotional way as well I hope.''
As an Englishman, Miller had the added challenge of reprising his Scottish accent for the role of Sickboy.
"It wasn't that hard (to get back into character) but I worked on the accent a bit,'' he said.
"I tend to pick it up by spending some time here, and I worked with a voice coach this time which I didn't do before.
"But it's (the character) sort of ingrained really.''
Macdonald, whose original character Diane makes a cameo appearance in T2, arrived at the premiere with McGregor.
"Ewan McGregor was my first screen love and I hold him the same sort of affection as I do my first love,'' she said.
"I just adore him, and it's lovely to get to revisit that again really.''
T2 Trainspotting will be released in UK cinemas on January 27.