Andy Murray A Spectator At Davis Cup
15 July 2016, 10:30 | Updated: 15 July 2016, 10:34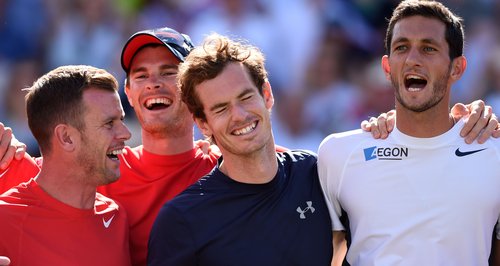 Andy Murray will play the role of willing helper at Great Britain's Davis Cup quarter-final against Serbia this weekend.
The Wimbledon champion decided on Monday not to play in the quarter-final on clay in Belgrade so soon after winning his third grand slam title and in the middle of a hectic summer schedule.
But he kept his promise to fly out and support his team-mates and arrived at the Tasmajdan Stadium for afternoon practice on Thursday.
Murray chatted with captain Leon Smith as singles players Kyle Edmund and James Ward hit with coaches Nick Weal and Colin Beecher as well as picking up balls and fetching water.
Smith said Murray would still have an important role to play from the sidelines and that his presence was a big boost to the team, but the 29-year-old was happy to take a back seat.
He said: "I am not here to coach any of the guys, just try to help where I can.
"There's been obviously a number of ties where the guys that are here helped me a bunch and helped the rest of the team out so if there's anything they need me or want me to do (I'll do it).
"I'm not going to start telling anybody what to do. If anyone wants to ask me anything I will try and help wherever I can and just support the team.''
In the absence of Murray from the team sheet, 21-year-old Edmund takes on the role of British number one for the first time and will face former top 10 player Janko Tipsarevic in the first rubber of the tie on Friday.
Edmund's only previous Davis Cup experience came in last year's final when he won the first two sets against Belgian number one David Goffin before losing in five.
Murray said: "I am sure Kyle will be fine. Everyone deals with situations differently, but being number one player makes no difference.
"He has played in the Davis Cup final, that's tough, it was his first Davis Cup match and he handled it extremely well even though he didn't win the match. And he loves clay, he is very good on the clay courts.
"I would expect him to be nervous but to play well.''
Murray looked to be itching to get involved as he stood at the back of the court with tennis racket in hand, and he did take part in a couple of light-hearted volley drills.
The Scot made the decision to miss his first tie in more than three years after consulting with his coaches Ivan Lendl and Jamie Delgado as well as Smith.
Had he played, he would have had to move straight from grass onto clay and then immediately on to hard courts ahead of the Masters tournament in Toronto starting on July 25.
After that comes the Olympics in Rio, where Murray will defend his singles title, and then the US Open.
He said: "I obviously would have loved to have played but it was going to be quite a tight turnaround and, after chatting to my team, I wasn't going to be able to do it.
"But I am happy to be here and just try and help, but it's tough not to want to hit some balls.
"I am normally playing some of the matches but I am used to sitting at the side supporting during Davis Cup, so that will be all right, I just hope the guys can do it. They've got a good chance if they play well, but it's going to be tough.''
Ward will play the second singles match against Serbian number one Dusan Lajovic while Saturday's doubles rubber is set to pit Jamie Murray and Dom Inglot against Tipsarevic and Nenad Zimonjic before the reverse singles on Sunday.
Andy Murray has had a restful few days since his glorious victory over Milos Raonic in the Wimbledon final last weekend and has enjoyed spending time with wife Kim and baby daughter Sophia.
He said: "I didn't really do much on Tuesday and Wednesday, just relaxed with my family, tried to recover from the last few months. It was nice to have a few days at home. I needed the rest.
"I had a great few weeks on the grass. I was obviously pumped to win again and I had a good time on Sunday and Monday, it was great, and I feel really, really motivated now to try and do more.
"I feel more motivated than I did last time I won Wimbledon for sure. I'm really pumped for the next few months and the end of the year and then I'll see what I've got.''