Andy Murray Defends Field At Olympics
3 August 2016, 06:55 | Updated: 3 August 2016, 06:57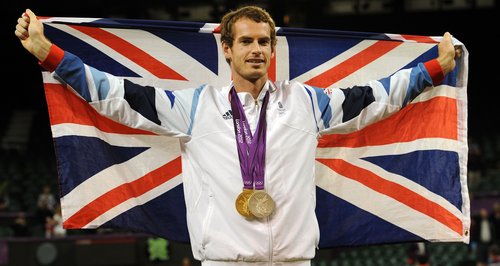 Defending champion Andy Murray insisted the Olympic tennis tournament remains a strong competition despite Stan Wawrinka joining the growing list of withdrawals.
The world number four pulled out on Tuesday citing a back injury, meaning half of the men's top 10 will miss the event.
Wawrinka's Swiss team-mate Roger Federer has taken the rest of the season off to recover from knee surgery, while Milos Raonic and Tomas Berdych cited concerns over the Zika virus and Dominic Thiem prioritised the ATP Tour.
Top-30 players Nick Kyrgios, Bernard Tomic, Richard Gasquet, John Isner, Sam Querrey and Feliciano Lopez are also absent.
Murray, who beat Novak Djokovic and Federer back to back to win gold in London, said: "It's unfortunate with Roger and Stan, they're two guys that are both great players and capable of winning events like this so it's a shame that they aren't here.
"But it's still a pretty strong field, a lot of the top-20 players are here even if unfortunately there's a few of the top 10 missing.''
Murray has not played a match since beating Raonic to win his second Wimbledon title last month.
He travelled to Great Britain's Davis Cup quarter-final against Serbia as a supporter and has been preparing for the Olympics at a training camp in Majorca.
Murray's training included practice sessions with Rafael Nadal, who is planning to return from more than two months out with a wrist injury.
"We practised a little bit together,'' said the Scot. "I had a couple of British guys over there with me, Ed Corrie and Dan Smethurst, and I hit with Rafa a couple of times, and it was good.
"It was hot, conditions are quite different here, the courts we were practising on were a bit faster, here it's pretty slow and heavy conditions, a little bit humid and quite windy, so it's good to get here a few days early and get used to it.''
Murray, who practised with British team-mate Kyle Edmund at the Olympic Tennis Centre on Tuesday after arriving on Monday night, sought final assurances from his doctor to allay concerns about Zika before travelling.
Wife Kim and baby daughter Sophia will not be in Rio, although Murray insisted that was not because of health concerns and that the event had never been part of their schedule.
The 29-year-old said: "I spoke to my doctor and he assured me everything should be okay. Hopefully I don't get too many mosquito bites but I don't think it's too bad at this time of year and there's a lot of places that are a little bit dodgy right now, obviously the stuff in Miami, so you just hope that nothing happens.''
Murray is going for doubles gold with his brother Jamie as well as bidding to successfully defend his singles title.
He frequently cites the gold medal he won in London as his favourite career moment but does not expect it to have any impact on this tournament.
"The only time when defending a title has felt a bit strange to me was at Wimbledon because you come out and open the tournament and there's quite a big thing surrounding who's playing the first match on Centre Court,'' he said.
"Here it's totally different conditions, different venue, different country, so I'll try and treat it like any other tournament and prepare as best I can.''
Murray learned from his first Olympic experience in Beijing in 2008, when he embraced the occasion enthusiastically but flopped in the tournament.
He had planned to stay in a hotel in Rio to avoid potential distractions but is now likely to move into the athletes' village in order to be closer to the venue.
"The whole atmosphere surrounding an Olympics is different because you're around loads of the best athletes in the world and you really want to perform well and do well for your country and your team-mates,'' said the world number two.
"I remember when I was in Beijing, although I didn't perform well there, it was just nice being surrounded by the best athletes from your country, seeing them coming back with medals, it feels a lot more like a team environment.
"I've enjoyed that throughout my career and hopefully I can perform well here.''