Andy's Grandfather Proud Of Wimbledon Champ
11 July 2016, 08:45 | Updated: 11 July 2016, 08:47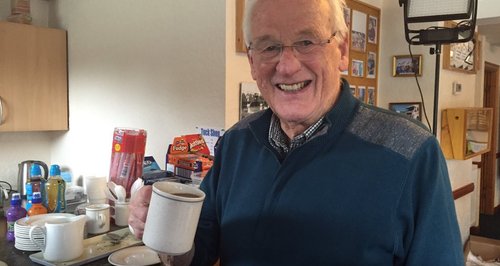 Andy Murray is mentally a better player and much more consistent since his first Wimbledon win, according to the tennis champion's proud grandfather Roy Erskine.
Mr Erskine watched the final at his Dunblane home with his dog for company as wife Shirley enjoyed the match at Centre Court.
Once Murray had secured victory, he dropped by the local sports club where locals had gathered to cheer on their home-grown champion.
The atmosphere was tense but in the end cheers rang out and Saltire flags waved at the club where Murray and his brother Jamie practised as youngsters.
Former player Mr Erskine, whose name appears on the club's champions board in 1974 and 1978, said: "I must say that both boys have done so well and we just love it.
"There are always tense moments with any match Andy plays, and even when you felt he was just about there, you thought 'maybe it won't happen'. But he did well.
"His opponent was very strong, with a big service, and he'll improve as time goes on. He was certainly worthy of getting into the final.''
Mr Erskine, who is in his 80s, added: "You got the feeling today that Andy was playing so well, so consistently, that he wasn't going to lose. But you were still anxious.
"He's more consistent but I don't think he's any better a player (than his first Wimbledon win), because he's been good for so long, but mentally he's better and much more consistent.
"He's very intelligent on the court and works things out pretty well. I think that is just experience of playing at Wimbledon.''
Shop owners on Dunblane's High Street, where Murray's golden postbox has stood since his London 2012 win, carried on the tradition of supporting their local champion with displays devoted to Wimbledon and to Murray.
Good luck signs filled windows and locals streamed to local bars to watch the match despite heavy rain all afternoon.
At Dunblane Sports Club a few very keen youngsters did not let the wet weather stop them from knocking some balls about the puddle-filled court.
Cameron McMillan, who has coached at the club for six years, said: "It's absolutely fantastic. To win a second time is just amazing.
"It was very tense here right up to the last minute but as soon as he won that match point, everyone here just exploded.
"His opponent put up a good fight but Andy was a far better player on the day.
"We've got kids outside now playing on flooded courts - that's because of Andy.''
Duncan Hegarty, 12, said: "It's very exciting to watch someone from Dunblane playing that standard of tennis, and to play on the courts that Andy and Jamie have grown up on.''
Euan Anderson, also 12, said: "It's like everybody in Dunblane wants to play tennis now.''
Isobel Anderson, 23, from nearby Bridge of Allan, said: "Raonic put up a really good fight. It was neck and neck for the second and third sets so it was quite tense and stressful to watch.
"But I thought Andy could do it. It was great to be watching here at the sports club, I think it made it extra special.''
Fellow Stirling University student Hannah Fields, 26, from Texas, said: "It was really neat to be here. It was so tense though.
"I don't watch tennis a whole lot but it was a great experience seeing the match in Dunblane where Andy's from.''
Leader of Stirling Council Johanna Boyd hailed Murray's "outstanding achievement'' in winning Wimbledon for a second time.
She said: "Andy's success has been an inspiration to everyone in the community and he is a fantastic role model for our young people.
"His world-class accomplishments are something we can all celebrate and we are very proud of his latest victory.''
SportScotland chief executive Stewart Harris also paid tribute to Murray, who he described as an "inspirational figure'' in Scottish sport.
He said: "It is a phenomenal achievement for Andy to win his second Wimbledon men's singles title - his third Grand Slam success so far.
"He played scintillating tennis throughout the tournament and is a true champion.''