Appeal For Witnesses To 'Attempted Murder' Attack On Man In Car In Glasgow
22 May 2017, 05:26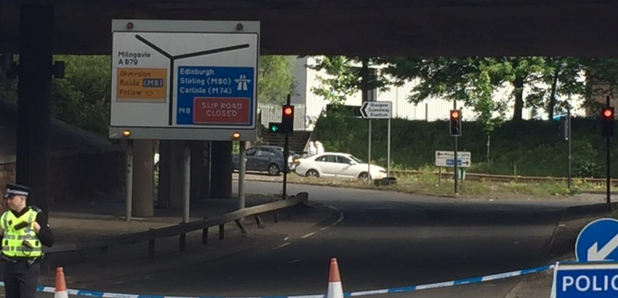 Police are appealing for two potential witnesses to what they say was an attempted murder in Glasgow to come forward.
Steven Daniel, 37, was left with serious facial wounds after two men attacked him with a blade in his car in the Port Dundas area of the city early on Thursday.
Mr Daniel, now in a stable condition in hospital, is a nephew of the late Jamie Daniel, whose family have been linked to gangland disputes and police said the attack was "clearly targeted''.
Detectives are now appealing for two people thought to have witnessed the attack to get in touch.
The victim was driving a dark blue Skoda Octavia on Saracen Street, Glasgow, just after midnight when two cars began to pursue him.
They chased him onto Craighall Road near Dobbies Loan at the slip road to the M8, causing him to bring the vehicle to a stop, after which he was assaulted.
Police said two people were seen standing at the traffic lights waiting to cross where Craighall Road meets the motorway slip road at the time of the attack.
Detective Inspector Jim Bradley said: "We potentially have two eyewitnesses who will have seen this horrific incident take place and it is absolutely vital that they come forward and speak to the police.
"In order for us to find these despicable individuals, we need a complete picture of what exactly happened, therefore if you were waiting to cross at Craighall Road, where it meets the slip road onto the M8, just after midnight on Thursday please get in touch and tell us what you saw.
"We understand that it would have been a very frightening scene to witness, but your information could be absolutely crucial to our investigation and to helping us find these dangerous criminals.
"The victim was clearly targeted and I have no doubt that there are people who know who is responsible.
"I would appeal to these people to do the right thing and pass on their information to the police because these violent and reckless individuals have no place on our streets.''
Mr Daniel was so badly injured it was initially believed he had been shot but further investigations found a bladed weapon had been used.
Two vehicles were recovered shortly after the assault, having been set on fire.
A black Audi was found in Forge Street, Germiston, and a silver Volkswagen was recovered in Balmuildy Road, Bishopbriggs.
Police said they are still to establish whether these vehicles are linked to the incident.