Baby Box Roll-Out Begins With Aim To Give Every Child 'Best Start In Life'
15 August 2017, 06:32 | Updated: 15 August 2017, 06:36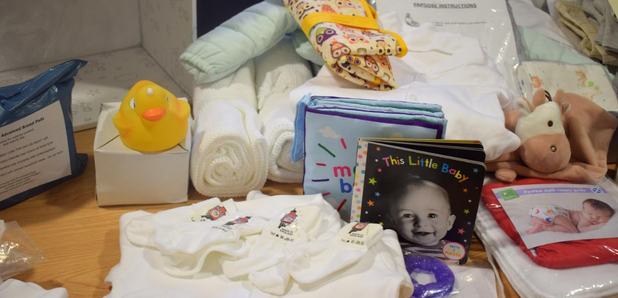 New parents across Scotland are starting to receive a box full of essential items aimed at giving their child "the best possible start in life".
Delivery of the baby boxes, containing items such as clothes, books and blankets, begins today.
The national roll-out follows pilot projects in Orkney and Clackmannanshire which started in January.
The boxes, inspired by Finnish baby boxes, can also be used for babies to sleep in.
New parents are being urged to consider safe sleeping practices for their newborns ahead of the launch.
Chief Medical Officer Dr Catherine Calderwood said: "All the evidence shows that the early years are crucial for children's development. What happens then can be linked to outcomes much later in life. So we know that measures undertaken in the zero-three years age range have the opportunity to make the biggest impact.
"That is why we have been working hard to enhance the existing infrastructure available to support families in these crucial early years from before birth all the way up to school age and beyond.
"Over and above the practical benefits the items within the baby box provide, the box itself also offers healthcare professionals a unique opportunity to introduce expectant parents to a wide range of health promotion information."
The Scottish Government described the roll-out of the boxes as a "momentous occasion".
Early Years Minister Mark McDonald said: "We are committed to doing everything we can to give every baby born in Scotland the best possible start in life and the baby box is just one of the range of measures we are using to help babies and parents thrive in the crucial early months.
"The box includes a large number of items which are not only practical but designed to help tackle inequality and improve health. It can also be used as a safe sleep space and has been awarded British safety standard accreditation as a crib for use at home.
"We will continue to listen to feedback as the baby box reaches more families and work with parents and healthcare professionals to keep the contents under review."
All babies due on or after August 15 will be eligible for a box.
Boxes issued under the Scottish scheme meet the highest safety standards, the Scottish Government said.
Safe sleep guidance is provided in a leaflet inside the box and safety guidelines are also printed on the box lid.