Brain Family 'Told They Must Leave UK'
3 August 2016, 10:36 | Updated: 3 August 2016, 10:39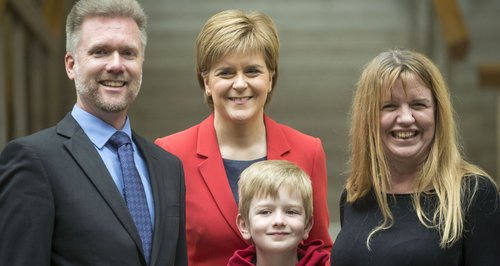 An Australian family fighting to remain in Scotland have been told they must leave the UK after failing to meet the Government's criteria on immigration, according to their MP.
Kathryn and Gregg Brain, who moved from Australia to Dingwall in the Scottish Highlands with their son Lachlan in 2011, had until the end of Monday to secure a job for Mrs Brain that meets Home Office visa requirements, after being granted an extension on their leave to remain.
Their local SNP MP Ian Blackford said he has received a letter from the Home Office saying the Brains would not get indefinite leave to remain or a further extension to the grace period, after the last extension lapsed on August 1.
The family initially moved to the UK on Mrs Brain's student visa but a two-year post-study visa scheme then on offer was later withdrawn by the Government.
Mr Brain said the family have received around a dozen job offers but none that meet the specifications for a UK tier two visa.
Mr Blackford posted on Facebook: "My duty over the coming days and weeks is to do all I can to assist the family, not coerce the family to leave.
"I will continue to work over the coming days with the family to find a suitable opportunity that will satisfy the tier two requirements. The challenge we all face is still to unearth an opportunity that will allow the family to stay.''