Brexit Agreement Asking People To Take Blindfold Leap Off Cliff - Sturgeon
21 November 2018, 06:39 | Updated: 21 November 2018, 06:41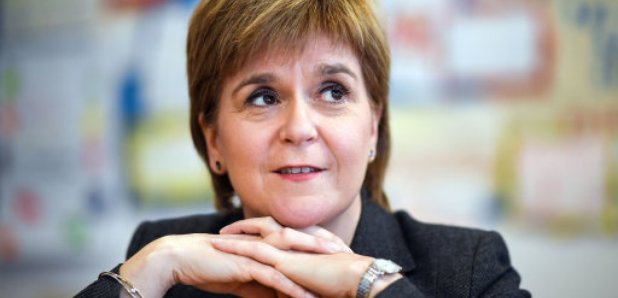 Scottish First Minister Nicola Sturgeon has described the latest draft of Theresa May's Brexit agreement as a document which will ask people to "take a blindfold leap off a cliff".
After holding talks with the Prime Minister in London, Ms Sturgeon said they had a "full, frank and calm" exchange of views.
The SNP leader said Mrs May had shown her the latest draft of her plan but claimed it was a "vague, aspirational document".
She said: "I've seen today the current draft - it's not binding, it doesn't have legal effect and effectively it amounts to the House of Commons being asked to vote to exit the EU without knowing what comes next.
"That's asking people to take a blindfold leap off a cliff edge and I have said all along I just don't think that's a reasonable or acceptable thing to do.
"Perhaps if there had been more willingness to listen to different voices over the past couple of years we would be in a better position now.
"There's an argument that says we're getting a little late in the day for that meaningful engagement but as long as the possibility is there I will take it."
A Downing Street spokeswoman said Prime Minister Theresa May had told Ms Sturgeon the deal on the table is "the best deal that could have been negotiated".
She said: "The Prime Minister made clear that we are negotiating a deal with the EU that works for all parts of the United Kingdom - Scotland, Wales, England and Northern Ireland - and delivers on the result of the referendum.
"The deal will give Scottish businesses the clarity and certainty they need to protect jobs and living standards, and see us take back control of our waters, improving the fortunes of our fishermen.
"The Prime Minister also emphasised her firm belief that the withdrawal agreement is the best deal that could have been negotiated and is in the interests of the entire of the United Kingdom."
A No 10 source added: "The PM urged the FM to listen to Scottish employers and to back the agreement reached with the EU. The truth is that SNP plans just make a no deal Brexit more likely."
Ms Sturgeon also admitted she has not yet found common ground with Labour over an alternative Brexit deal after meeting UK party leader Jeremy Corbyn.
The First Minister held talks with Mr Corbyn in Westminster to try to coalesce around another way forward but said "we're not there yet".
The SNP leader said she had met all opposition leaders and they were united in planning to vote down Mrs May's deal, but claimed the next step was to agree on an alternative, citing a People's Vote, single market membership and a customs union as options.
She said: "What we talked about was our unity of purpose in thinking the prime minister's deal is a bad deal and voting that down, unity of purpose in not allowing this to be presented as a bad deal or no deal.
"No deal is not an option and there's no majority for no deal.
"What I wouldn't say is we got to the stage today where there's an agreement that can be coalesced around one of those but, to be frank, that's the responsibility of the opposition."
Ms Sturgeon did not hold back from criticising Mr Corbyn over a lack of leadership and expressed frustration Labour had stopped short of prioritising a second vote that could stop Brexit.
However, she also said she could get behind Labour's position on a pushing for a vote of no confidence and a general election instead of "wringing my hands".
She said: "I don't think his position on Brexit has shown a lot of leadership even until very recent days but we've got to look ahead now.
"I'm not saying I can sit here and tell you I can guarantee I can get to a position where me and Jeremy Corbyn are on the same page, but I feel a responsibility to have a go at that.
"I would relish a general election - this is the most incompetent shambolic government in my lifetime, so I would relish that."
Liberal Democrat leader Sir Vince Cable said opposition parties must now "step up momentum" for a People's Vote, labelling Labour "missing in action".
"They claim to want a general election before a People's Vote, but are making no moves to get one," he said.
"Jeremy Corbyn cannot continue to court both sides of this debate - it is time to decide."
Plaid Cymru leader Adam Price said it was only Labour that seemed intent on not pursuing a reversal of Brexit.
He said: "The Labour leadership must now come to its senses and work with Plaid Cymru and the SNP to find a way out of this Brexit madness."
A Labour Party spokesman said the meeting between Ms Sturgeon and Mr Corbyn was "constructive".
He said: "They discussed their common opposition to Theresa May's botched Brexit deal and determination to work across Parliament to prevent a disastrous no deal outcome."