Brexit Repeal Bill Discussed By Holyrood Minister And Welsh Counterpart
27 July 2017, 14:58 | Updated: 27 July 2017, 15:00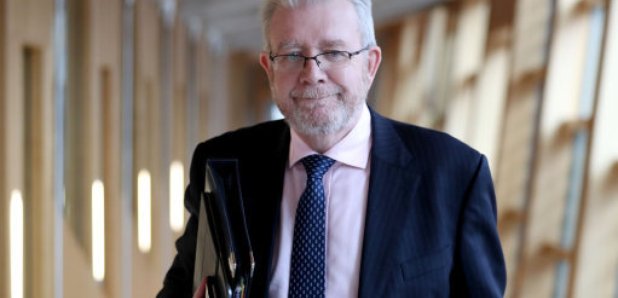 Scottish and Welsh ministers have met in Cardiff to discuss their opposition to the Brexit repeal bill as the Junior Brexit Minister said it was in the ''interests'' of the devolved administrations to work with the UK Government on the legislation.
The Scottish and Welsh governments have said they cannot recommend that legislative consent is given to the European Union (Withdrawal) Bill as it stands.

The legislation - designed to transpose EU law into British law so the same rules apply on the day of Brexit as the day before - will see EU responsibilities in devolved areas initially transferred to Westminster.

The UK Government said this will allow common frameworks to be created ahead of further devolution.

The Scottish and Welsh governments said it amounts to a power grab and must be amended to give certainty to businesses, citizens and to protect devolution.

Scotland's Brexit minister Michael Russell and Welsh Finance Secretary Mark Drakeford were joined at the meeting by the Scottish Government's Lord Advocate James Wolffe QC and the Welsh Government's Counsel General Mick Antoniw.

Speaking ahead of the meeting, Mr Russell said: ''The European Union (Withdrawal) Bill is quite simply an attack on the hard-won powers of the Scottish Parliament and on the principles of devolution.

''We cannot and will not stand by and let powers in devolved areas be taken by the UK Government. The Bill must be changed to respect devolution and our parliament.''

Junior Brexit Minister Robin Walker said it would increase the power of the devolved administrations and having some common frameworks on devolved matters are required for EU negotiations for market access to the EU and to preserve the single market within the UK.

Speaking in Edinburgh, he added: ''When people take a long hard look at it, I think it will be in the interest of each of the devolved parliaments and administrations to actually work with us to make this process work.

''There does need to be a recognition in this process there are going to be areas where we are going to need to agree on common frameworks and that that is important not only in terms of the domestic functioning of our economy, but in also in terms of our market access to the EU.

''So, that being a key objective of the Scottish Government as they have set out in Scotland's Place in Europe, we would hope that they could engage constructively on that front as well.

''There are no powers which currently sit that will be taken away from them but we've also been very clear that our overall strategy is to increase the power of each of the devolved administrations through this process.''

Mr Walker will discuss Brexit with the financial sector, farmers, the life sciences industry and oil and gas sector as he visits Aberdeen, Edinburgh, Fife and Dundee University on a two-day visit to Scotland, but is not meeting with the Scottish Government.