Bus Suitcase Mix-Up Led To Drugs Worth £6,500 Being Discovered
23 August 2017, 12:20 | Updated: 23 August 2017, 12:41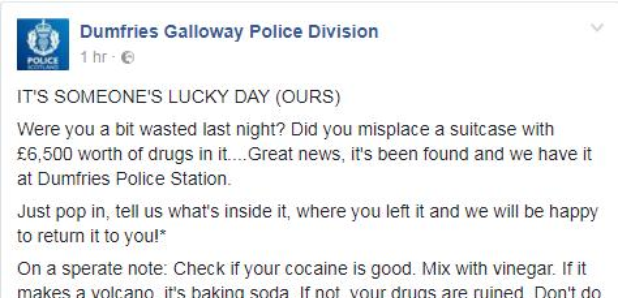 A suitcase containing £6,500 worth of drugs has been handed in to police after someone picked it up by mistake on a bus.
Officers in Dumfries have taken to social media urging the owner to "pop in, tell us what's inside" and claim it.
However, their Facebook post warns "you will be arrested and will only get the empty case back after the court case".
The suitcase was picked up by mistake by a man in Dumfries when he got off a bus travelling between London and Belfast on Tuesday morning.
When he got home, he realised it was not his and took it to the tourist information centre next to the bus stop.
Staff there thought it had a funny smell and phoned police, who came to take it away.
Officers at Dumfries police station discovered it contained a large quantity of drugs when they opened it to investigate.
They are keen to trace a young man seen asking about his missing suitcase in the Whitesands area of the town on Tuesday morning.
The police Facebook post has been liked more than 375 times.
It says: "Were you a bit wasted last night? Did you misplace a suitcase with £6,500 worth of drugs in it ... Great news, it's been found and we have it at Dumfries Police Station.
"Just pop in, tell us what's inside it, where you left it and we will be happy to return it to you!"
The man police want to trace is described as being in his mid 20s with fair hair and was wearing jeans and a horizontally-striped fawn-coloured top.
He spoke with a Scottish accent
Constable Alistair Hope said: "We would like to identify this man in relation to this investigation.
"Anyone who may have been in or around the Whitesands on Tuesday morning is asked to call us at Dumfries on the 101 number if they can help us identify this man."