Business As Usual Despite Raised Terror Threat Level, Nicola Sturgeon Says
24 May 2017, 07:08 | Updated: 24 May 2017, 11:08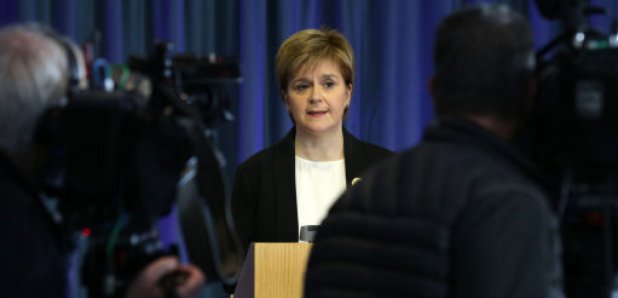 The people of Scotland must not allow terrorism to triumph and should go about their business as usual, First Minister Nicola Sturgeon has said.
Following confirmation that the UK's terror threat level has been raised to critical, the FM chaired another meeting of its Resilience Committee meeting in the early hours of this morning.
The meeting was attended by the Deputy First Minister, the Justice Secretary, the Lord Advocate and senior officers from Police Scotland.
Ministers were briefed by Police Scotland about the practical implications for Scotland of the heightened security status for coming major events such the Scottish Cup Final.
The First Minister said: "While raising the UK terror threat level to critical has been judged a necessary response to the despicable attack in Manchester, we must not allow terrorism to triumph.
"I urge the people of Scotland to be vigilant but not alarmed and, as far as possible, to go about their business as usual.
"Police Scotland have already visibly increased their presence in locations such as transport hubs and city centres as a precaution.
"Security arrangements for upcoming public events, including this weekend's Scottish Cup Final, are being thoroughly reviewed and the public should anticipate additional safety measures such as full body and bag searches.
"Our emergency services prepare extensively for situations such as this, and those well-rehearsed plans are now being put into practice.''
The First Minister added: "Anyone who was in Manchester and witnessed the terror attack or its immediate aftermath will undoubtedly be feeling stressed or upset.
"Anyone with concerns about themselves or their children should contact their GP for support or NHS 24 if their GP surgery is closed.''
Tributes were given on Wednesday by Scotland's chief constable Phil Gormley.
He said: "My thoughts and those of everyone at Police Scotland continue to be with those who have lost loved ones or who were injured in the attack in Manchester.
"With the threat level now at critical, we have now established a multi-agency co-ordination centre to lead and co-ordinate the response across the country along with key partners.
"Police Scotland will be increasing our operations to protect the people of Scotland, our businesses and public places.
"This may include a range of options aimed at increasing security at these sites, reassuring residents, businesses, workers and visitors so they can go about their daily lives as normally as possible.''
He added: "There is no intelligence to suggest there is any specific threat to Scotland but I would ask the public to remain alert and report anything suspicious.''
Rev Dr Lindsay Schluter, minister for Barra and South Uist congregations, reacted to news of the blast.
He said: "Barra is a small, close-knit community and therefore nobody has been unaffected by this tragedy.
"The events in Manchester and the way they have impacted on two families here has come as a great shock to everyone.
"People have been numbed by what has happened to the two girls and everybody continues to be very anxious about their welfare.
"People in the community have been very supportive of the families, deeply prayerfully so.
"As one person here has said, 'Manchester and its people are so much closer to Barra than anyone ever had realised'.''