Catalan President visits Scotland
11 July 2018, 16:13 | Updated: 11 July 2018, 16:19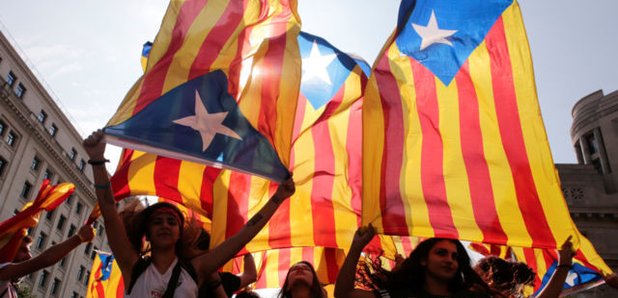 Catalonia's president has hailed the Scottish independence referendum as "the best example" of exercising citizens' rights to self-determination.
During a visit to Edinburgh, Quim Torra said the 2014 vote showed "conflict should be always resolved by voting and never, never by violence and repression".
He spoke after a meeting with Clara Ponsati, a former minister from the region facing extradition for her involvement in the controversial Catalan independence referendum last year.
Prof Ponsati is being sought by the Spanish authorities on charges of violent rebellion and misappropriation of public funds.
She denies the charges against her.
Mr Torra is also due to meet with First Minister Nicola Sturgeon at her official residence, Bute House.
Ms Sturgeon spoke out in the aftermath of the October 1 ballot - ruled illegal by the Spanish authorities.
She condemned scenes of violence during the vote, and called for a way forward that "respects the rule of law, which is vital, respects democracy but also respects the right of people in Catalonia to determine their own future".
Speaking ahead of their meeting, Mr Torra thanked the First Minister and Scottish people for their support.
He said: "What I want to tell Ms Sturgeon this evening is... thank-you for this welcome to Clara, you are taking care of one of the most admired colleagues that we have, and I think that this is strengthening the links between Scotland and Catalonia.
"Two nations with the same goal - the independence of our countries."
Mr Torra, who was sworn in by Catalonia's parliament in May, said that in Spain there is now a "clear violation of human rights relating to self-determination".
He added: "The self-determination referendum on October 1 last year, and the political declaration of independence voted by the Catalan parliament, was prevented by force and physical violence of (the) Spanish state.
"The Scottish referendum of the year 2014, agreed between Edinburgh and London, was the best example that conflict should be always resolved by voting and never, never by violence and repression.
"Spanish justice is persecuting Clara Ponsati, among other political exiles, for defending every Catalan his right to vote October 1.
"We would have liked to have had Cameron's (former prime minister David Cameron) same response when they negotiated how the Scots should exercise their right of self-determination."
Prof Ponsati described the president's visit to Scotland as "extremely symbolic".
She said she is "humbled and very grateful" for the support she has received.
The St Andrews University academic faces a four-week hearing this summer where Scottish prosecutors will use treason laws as part of the extradition case.
Her legal team, who describe the prosecution as "politically motivated" by Spain, says she could face a total sentence of up to 33 years if she is sent there and convicted of the charges, raising fears the 61-year-old could spend the rest of her life in jail.
Referring to the centuries-old treason laws, Prof Ponsati said: "I just find the whole situation surreal.
"If it were to succeed we would be seeing one more episode of Outlander."
She added: "I keep calm. I am a toughie. I don't want to cry, I just want to fight."