Charles and Camilla re-open Mackintosh tea rooms
7 September 2018, 15:17 | Updated: 7 September 2018, 15:19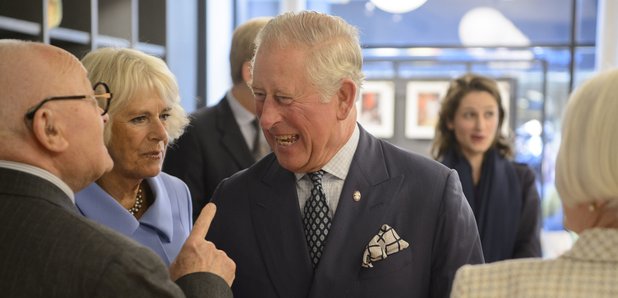 The Duke of Rothesay spoke of his pride at helping officially open the historic Charles Rennie Mackintosh-designed tea rooms in Glasgow following a £10 million restoration.
Charles and wife Camilla toured the refurbished Mackintosh at the Willow tea rooms on Sauchiehall Street, which date back to 1903.
The A-listed property is of international significance as it was the only building where Mackintosh had complete control over the architecture and interior decorations, including the design of furniture, cutlery and waitress uniforms.
The Willow Tea Rooms Trust organised the four-year restoration of the site and the trust's Celia Sinclair showed the royal couple round the restored building.
They met trainees taken on by the tea room following a training course organised through the Prince's Trust and spoke to people involved in creating replicas of more than 50 pieces of original Charles Rennie Mackintosh furniture.
Charles said: "It's a remarkable achievement. I'm full of admiration.
"What you've managed to do is truly splendid and will make such a difference to Glasgow.
"I wish you nothing but the greatest success from now on and I'm very proud to have played a small part in opening the tea rooms."
Presented with a Mackintosh replica chair, he joked there is "room for it where I grew up".
The royals were given tea before unveiling a plaque to open the tea rooms.
Charles then put in place the final piece of wood carving to mark the completion of the restoration.
The royal couple greeted crowds in Sauchiehall Street as they left.
Camilla also visited two cancer centres in the city, beginning with the Beatson West of Scotland Cancer Centre where she heard about the work of Target Ovarian Cancer in its 10th anniversary year.
She then headed to the Maggie's Centre at Gartnavel Hospital, where she spoke to cancer patients who told her how the centre had helped them.
The Duchess, who has been president of Maggie's Centres for a decade, praised their atmosphere, saying: "When I went to the first one I thought it would be depressing, but it was the complete opposite. It was uplifting."
She also met Lily Jencks, daughter of the charity's co-founders, and toured the garden she designed surrounding the centre.