Childcare Recruitment Campaign To Target Up To 11,000 More Workers
23 October 2017, 13:27 | Updated: 23 October 2017, 13:28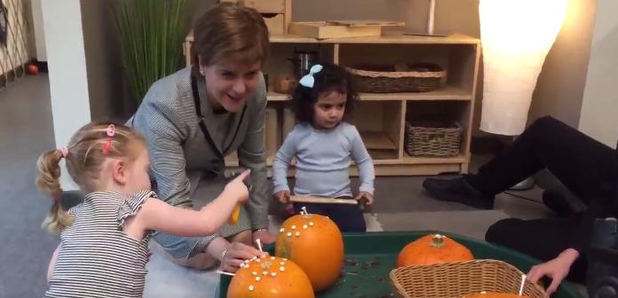 First Minister Nicola Sturgeon has helped launch a campaign to recruit up to 11,000 more people to work in childcare.
The recruitment drive, with the tagline "Shape their worlds. Shape your career", is targeted at school leavers, and aimed at delivering a key Scottish Government pledge to expand free childcare to 1,140 hours a year by 2020.

Currently, every three and four-year-old and eligible two-year-olds across Scotland are entitled to 16 hours a week free childcare which is due to almost double to 30 hours by 2020.

The Scottish Government estimates the increase will save families more than £4,500 a year per child but last month local government association Cosla raised concerns that there were "significant challenges in increasing the workforce and ensuring they are appropriately trained and skilled".

Officially launching the new recruitment campaign at Towerview Nursery, Glasgow, Ms Sturgeon said: "Our expansion of funded nursery education and childcare will be truly transformational and we need a strong workforce to achieve this.

"Working in this profession is hugely rewarding as it makes a real difference to children's lives, developing their skills and preparing them for school.

"As part of our efforts to increase the availability of nursery education and childcare we also want to improve the quality of education and care with more professional development opportunities.

"We want more people to consider a career in nursery education and childcare and this campaign will highlight the range of jobs and opportunities available."

The launch follows her announcement earlier this month of plans to double investment in early years education and childcare to £840 million a year by 2021.

Rachel Allan, a nursery practitioner at Edinburgh's Heriothill Nursery, who features in the recruitment campaign advert said her job "makes a big difference to the lives of little ones" and is also "really rewarding".

She added: "To someone considering a job in early learning and childcare, I'd say if they love spending time with children, they should go for it, whether it's through college, an apprenticeship, or learning on the job as I have done."