Communities answer snow clear-up call
4 March 2018, 07:03 | Updated: 4 March 2018, 07:10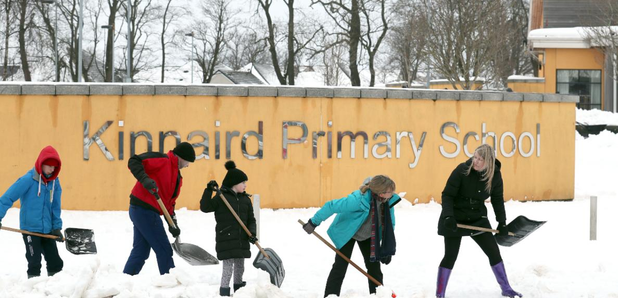 Communities have answered the call to work together to clear up the aftermath of the extreme weather that brought Scotland largely to a standstill.
Transport has been slowly returning to service with the first cross-Border trains to England resuming on Saturday afternoon while airports and trunk roads are operating "business as usual".
Parents and teachers have also been working to clean up snow from schools to allow them to reopen on Monday.
At Kinnaird Primary School in Larbert more than 100 volunteers answered a call for help to clear paths and entrances with similar events across Scotland organised over the weekend.
Transport Minister Humza Yousaf, who had been leading the severe weather response during the week, has turned his eye to more local events by helping a neighbour clear his driveway.
He tweeted: "Great pics of folk mucking in to clear their neighbourhood and community. Sometimes the worst of the weather brings out the best in people."
Yellow weather warnings for snow and ice remain in place for large parts of the country with temperatures unlikely to rise much until the middle of next week.
The Scottish Government has opened the Bellwin Scheme, set up to help councils who face large costs from damage from the severe weather.
Finance Secretary Derek Mackay said: "Although we expect to have seen the worst of the severe weather, we're aware there remains a flooding risk in some areas as the snow melts."
Scotrail illustrated some of the problems they are facing with pictures of icicles hanging from a rail tunnel in Bishopton.
The operator said: "Our network faces a lot of challenges as we work to get it back up and running.
"In some parts there are high winds of up to 40mph, which is causing snow to drift back on to tracks in exposed areas.
"In many cases our snow ploughs clear a line, only for the snow to drift back as soon as the ploughs move on. Freezing temps are also causing severe icing on some trains and in tunnels.
"We're working night and day to get as many routes open as possible - line testing is being carried out 24/7 until this has been achieved."
The first train from Scotland to England since Wednesday left Edinburgh on Saturday afternoon while the West Coast Main Line is also set to reopen.
Other services such as Edinburgh to Glasgow, Glasgow to Ayr, and Inverness to Aberdeen have been running from early on Saturday.
The Scottish Government had called on people to work together to clear up local roads and pavements and check on vulnerable people.
Shoppers were also being asked to be "sensible" when buying food and supplies as stocks ran low in areas but deliveries have been returning.
Robert Graham, managing director at Graham's the Family Dairy, said: "Demand has been unprecedented and despite a couple of tough days, thanks to our dedicated staff, we achieved 90% delivery yesterday and our core range of milk will be appearing in shops and supermarkets from today."
Health boards are continuing to prioritise emergency and urgent procedures, with routine cases postponed.
The developments come as the armed forces extended their efforts to help get essential medical staff to and from work amid travel disruption from "the Beast from the East".
Troops, backed by the emergency services and volunteers, were working in the NHS Fife and NHS Tayside regions from Friday evening onwards to transport vital staff to the hospitals where they work.
The Army had earlier been called in to take medics to and from Edinburgh's two biggest hospitals.
NHS 24 also appealed for help this weekend, asking anyone who can help their staff get to work to contact them via email servicedeliveryadmin@nhs24.scot.nhs.uk
Health Secretary Shona Robison said: "Emergency services across the country have given a superhuman effort over the past few days and I am particularly grateful to those selfless individuals across the country with 4x4 vehicles who have given up their time to get members of healthcare staff into work. They all deserve our deepest thanks.
"Health and social care staff have worked to ensure hospitals, surgeries and care homes keep operating throughout these difficult circumstances. The care they have delivered for patients has been nothing short of heroic."