Corrie McKeague Landfill Search Continues
24 March 2017, 13:16 | Updated: 24 March 2017, 13:18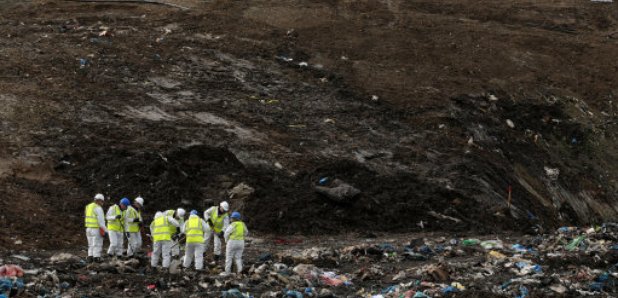 A search team trawling a landfill site in the investigation into missing RAF gunner Corrie McKeague has been through more than 845 tonnes of waste.
Suffolk Police said that officers from the Health and Safety Executive (HSE) were now working with the force, as the search nears the end of its third week.
It could take the team of eight trained search officers up to 10 weeks to sift through rubbish up to eight metres deep (26ft), covering around 920 square metres (9,902sq ft) of the dump in Milton, near Cambridge.
Detective Superintendent Katie Elliott said: "Officers have been liaising with the HSE as part of the investigation into the circumstances around what happened to Corrie.
"At this stage our search at Milton continues.
"If there is a find on the site then the HSE will have a role to play in looking into the procedures that were in place and we have been speaking with them to ensure they are aware of our investigation to date.
"Officers have completed thousands of hours of inquiries to find Corrie and through the work that has been completed over the past few months we have gathered a substantial amount of information which will inform both our own and any potential HSE investigation as we move forward.''
Mr McKeague's mother Nicola Urquhart has previously said she was ``terrified'' of what the search team might find.
Her 23-year-old son, from Fife, vanished after a night out with friends in Bury St Edmunds, Suffolk, on September 24.
A bin lorry was seen on CCTV near Brentgovel Street in the town around the time Mr McKeague was last seen, and it took a route which appeared to coincide with the movements of his phone.
Ms Urquhart said it would be ``quite unrealistic for me to presume that Corrie could still be alive'', but said ``thinking that and believing it are two completely different things''.
A bin lorry linked to the disappearance of Mr McKeague was initially thought to have collected an 11kg (1st 10lb) load, but police said it was later found to be more than 100kg (15st 10lb).
Ms Urquhart has said this could ``only mean one thing''.