Council Admit Schools Recruiting Problem
13 September 2017, 15:40 | Updated: 13 September 2017, 15:44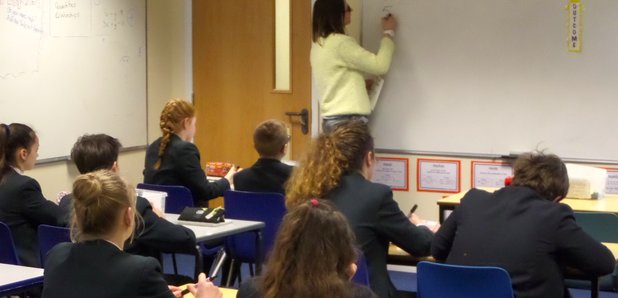 Finding teachers for maths classes is "more difficult", Edinburgh council chiefs have admitted after a secondary school in the capital asked parents for "support" in this area.
Bryan Paterson, the head teacher at Trinity Academy, reportedly highlighted the "national shortage" in mathematics teachers as the reason why they school had not been able to fill two posts.
Tories branded the situation a "scandal", while Labour said it was "utterly humiliating" for the Scottish Government that schools were having to turn to parents for assistance.
They hit out as Edinburgh City Council education convener Ian Perry stressed the authority was "working very closely" with the school to minimise disruption to youngsters from this "temporary shortage".
He said: "In common with many Scottish local authorities vacancies in maths are more difficult to fill. We want to reassure parents that we are working very closely with the school to support them over this temporary shortage and to minimise any disruption to the pupils' learning.
"Our priority remains ensuring that the curriculum continues to be delivered to the highest possible standard."
The Trinity Academy head teacher said plans were being put in place to mitigate the shortage and make sure all classes "are supported by mathematics teachers".
In a letter to parents reported in The Scotsman, Mr Paterson said: "Where necessary, maths teachers may also share some classes, particularly in S1-S3, with colleagues from other faculties who have a mathematics background.
"Finally, if any parent can support us in any way, or knows anyone who might be able to do so, please contact me directly."
A similar situation occurred earlier this year at Blairgowrie High School in Perthshire, where parents were asked if they would be "interested in supporting pupils" if they had a degree in maths or a related subject.
Tory education spokeswoman Liz Smith hit out: "This is a remarkable development which exposes the scale of the SNP's teacher recruitment crisis.
"The reality is that pupils who should be receiving top level tuition in a key subject will now be dependent in teachers who are skilled in other areas, but not in maths.
"It's also deeply unfair on teachers of other subjects to drag them into this sorry state of affairs."
The Conservative added: "It's one thing to have recruitment problems in remote parts of the country. For them to exist in Scotland's capital city is a scandal."
Labour education spokesman Iain Gray was also critical, describing the situation as "utterly humiliating for the SNP government".
He stated: "This is the second time a head teacher has been reduced to writing to parents asking for help with teaching Maths. Last time, it was in John Swinney's own constituency, this time it is in Scotland's capital city.
"It lays bare the state of education in Scotland after a decade of SNP government."
Mr Gray went on: "Under the SNP we have a workforce crisis in our schools, with 4,000 fewer teachers and £1.5 billion cut from local authority budgets since 2011.
"Labour would tackle the teacher shortage by improving pay and conditions for Scottish teachers who have some of the worst in the developed world. We would also fund bursaries for graduates to train to teach certain subjects - starting with Maths.
"Only by addressing the workforce crisis and investing in education can we make Scottish schools the best in the world."
A Scottish Government spokesman said: "It is good that Trinity have sought to provide reassurances on the actions taken to address their current circumstances, and teaching and learning for our young people must always be of paramount importance.
"Although teacher recruitment is a matter for local authorities, we recognise some recruitment challenges remain.
"We have taken decisive action to help recruit and retain teachers through our Teaching Makes People campaign, focusing specifically on attracting new teachers and career changers into STEM and other subjects.
"This year alone we have invested £88 million so every school can access the right number of teachers. We have worked with local authorities to increase teacher numbers, with an additional 253 this year.
"And we have increased the funding and places for our universities to recruit trainee teachers. £1 million from the Attainment Scotland Fund has also been made available to support 11 new innovative routes into teacher education."

But Liberal Democrat education spokesman Tavish Scott said: "This is the Scottish Government's Maths week yet in Edinburgh as across the country, there are not enough maths teachers.
"So instead of the usual excuses what the government should do is accept the reality of why there are not enough teachers and commission an independent root and branch review of teachers' terms and conditions and the demands placed upon them.
"That would ensure that we have an education system that is fit for purpose."