Council gives virtual reality headsets to all schools
18 March 2018, 11:59 | Updated: 18 March 2018, 12:09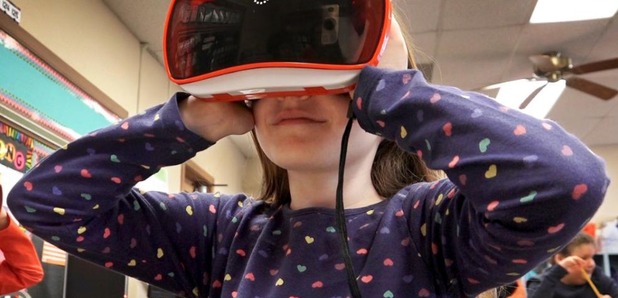 Pupils are getting to grip with the virtual world after a council in Scotland has become one of the first local authorities in the UK to provide virtual reality headsets for every school.
East Renfrewshire Council has spent £250,000 on more than 900 of the ClassVR headsets to provide a class set of the devices for all 30 of its primary and secondary schools.
Designed by educational technology company Avantis, the headsets give pupils access to hundreds of virtual and augmented reality activities.
The council's Education Convener, Councillor Paul O'Kane, said the use of the devices will be rolled out across the local authority's schools after a pilot project showed "a significant increase in engagement and knowledge retention" from pupils using the headsets.
He said: "By investing in this kind of immersive technology, it will provide our children with experiences and sensations that they may never experience in reality and brings learning to life in a way that ignites their imagination.
"As the first local authority in the UK to make this commitment to virtual reality there is no doubt that East Renfrewshire will continue to be at the very forefront of digital learning in the country."