Council orders Orange Walk avoid church
23 August 2018, 18:38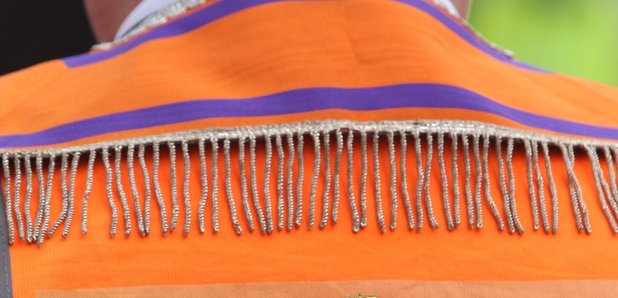 An Orange Walk will not pass a church where a Catholic priest was allegedly assaulted after council chiefs ordered the latest march to be re-routed.
A Glasgow City Council committee heard from police that "significant disorder" was likely if the march were to pass St Alphonsus' Church in Glasgow where Canon Tom White was allegedly assaulted while speaking to parishioners outside the church as an Orange Walk passed on July 7.
A march schedule at the end of July in the area was called off in the wake of the previous incident and the latest parade on Saturday will be routed away from the church and will also start earlier, at 10.30am rather than noon.
A man has appeared at Glasgow Sheriff Court charged with assault following the incident last month.
Bradley Wallace, 24, made no plea in relation to the charge and the case was continued for further examination.
The Archdiocese of Glasgow welcomed the news that the walk on Saturday is to be re-routed.
They tweeted: "@GlasgowCC has ordered a re-routing of Orange walk planned to pass St Alphonsus on Saturday.
"The Archdiocese is grateful to the council for taking note of concerns and acting decisively to lift a cloud of anxiety which was affecting parishioners and local residents."
A Glasgow City Council spokesman said: "A Public Processions Committee held this morning (Thursday) imposed an alternative route and start time on a proposed march by the Orange and Purple District 37 of County Grand Orange Lodge of Glasgow.
"Committee heard evidence from Police Scotland that significant disorder was likely, should the march take place on the original route - requiring specialist officers to be drafted in from across Scotland.
"The new route for the parade, scheduled to take place on Saturday, is Tullis Street, Main Street, MacKeith Street, James Street, The Green, Newhall Street, Dunn Street, London Road, Bridgeton Cross, James Street, MacKeith Street, Main Street and Tullis Street.
"The march will begin at 10.30am, rather than 12 noon. It will not pass St Alphonsus' church."
In a statement issued after the incident in July, Jim McHarg, Grand Master of the Grand Orange Lodge of Scotland, said they were "appalled" by the alleged incident.
He said: "Whilst it may be said that the Orange Order has different opinions to the Roman Catholic Church, I have no hesitation in stating that today we stand with Canon White in saying that this sort of behaviour has no place in society."