Councils Sign Agreement To Protect Role In Governing Schools
29 September 2017, 14:34 | Updated: 29 September 2017, 14:35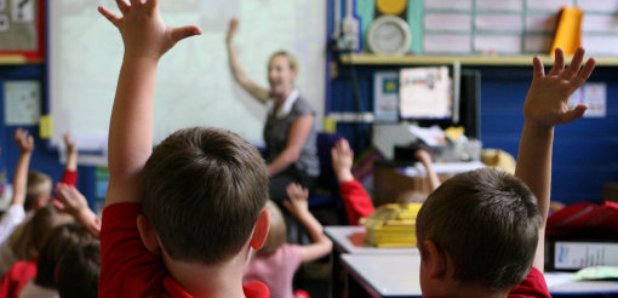 Councils have struck a deal with the Education Secretary to protect their role in the way Scotland's schools are run.
The agreement, signed off on Friday by council leaders, follows concerns from local authorities that John Swinney's governance reforms would "erode democratic accountability" in the sector.

Mr Swinney unveiled proposals to set up "regional improvement collaboratives" to "pool and strengthen resources to support learning and teaching in schools" earlier this year.

The plans were part of a wider package of reforms aimed at tackling the attainment gap and driving up standards in schools.

The collaboratives were to be led by a regional director, reporting directly to the chief inspector of education.

However council umbrella group Cosla said the proposals would result in "no meaningful local democratic accountability for education in Scotland".

Following talks with the government, it has now been agreed that each local authority will be part of one of six collaboratives on a regional basis in partnership with Education Scotland.

The collaboratives as a whole will be accountable to the collaborating local authorities as well as reporting to the chief inspector.

Each regional group will identify, promote and share good practice, and will provide day-to-day support for headteachers, teachers and other education professionals.

Cosla children and young people spokesman Stephen McCabe said: "Securing the best interests of children and young people is our driving goal in the integrated children's services which local authorities deliver.

"We share an ambition with the Scottish Government for excellence and equity for our children.

"Improvement collaboratives will take a robust, locally-driven and evidence-based approach which puts the child at the centre.

"They will support the education community while at the same time empowering a culture of collaboration across organisational and geographic boundaries.

"Today's agreement by Cosla leaders is a positive step which will secure improvement-focused collaboration between local and national partners."

Mr Swinney added: "Improvement collaboratives are key to realising this ambition and a crucial part of our education reforms.

"I look forward to national and local government working together at pace - with support and expertise from Education Scotland - on this important regional initiative."

Labour education spokesman Iain Gray said Mr Swinney had performed a "welcome albeit embarrassing climb-down".

"Local authorities have made a strong common sense proposal to improve support for learning while maintaining local control of schools," he said.

"However the SNP are still threatening to set school budgets centrally, and they need to drop that unwanted idea too.

"Above all, the Education Secretary needs to listen to the evidence that our teachers are among the lowest paid and hardest worked in the developed world, and do something about that too."