Cup Final: Increased Security Checks At Hampden
27 May 2017, 08:15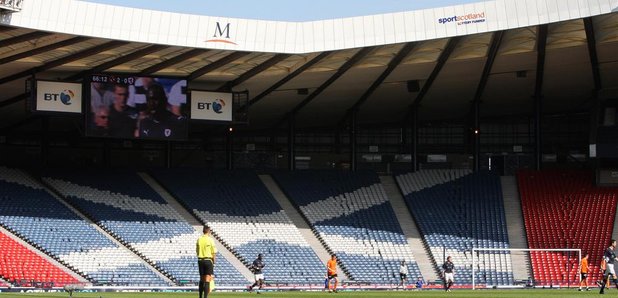 Football supporters attending the Scottish Cup Final have been warned to expect delays before the match as security is increased following the attack in Manchester.
About 50,000 people are expected to descend on Hampden Park for the game between Celtic and Aberdeen on Saturday.
Fans have been told they may also see armed police around the stadium and at transport hubs as the UK security threat remains at critical.
Police Scotland has asked supporters not to be alarmed at the enhanced police operation.
Match commander Superintendent Mark Hargreaves said: "The enhanced security operation at the stadium may include body and bag searches, which could potentially delay entry for a short time and so I would urge people to plan their travel and get to the Scottish Cup Final in plenty of time.
"Whilst I understand that some people may be inconvenienced by the increased security, public safety is our priority and I am sure everyone in Scotland will co-operate with us and support this.
"There is no specific threat against Scotland, or the Scottish Cup Final, however people should remain calm but vigilant and report anything suspicious to police.''
British Transport Police (BTP) will also have extra staff on duty to make sure fans get to and from the ground safely.
Inspector Brian McAleese said: "The Scottish Cup Final is always an exciting event and we are looking forward to welcoming the many thousands of fans to Glasgow.
"I am sure it will be a day to remember and throughout the day we'll be working extremely closely with Police Scotland and train operators.
"However, since the devastating events in Manchester and subsequent increase in the national threat level, passengers can also expect to see an enhanced security operation.''