Dan Evans to kick of Davis Cup tie in Glasgow
13 September 2018, 16:23 | Updated: 13 September 2018, 16:28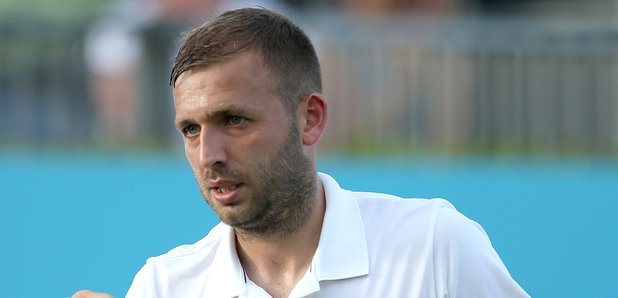 Dan Evans will lead Great Britain's bid for victory in their Davis Cup tie against Uzbekistan less than five months after completing a drugs ban
On April 28 Evans began his comeback from a 12-month suspension for cocaine use in the modest surroundings of the Scotstoun Leisure Centre in Glasgow.
Fast forward 18 weeks and Evans is back in Glasgow, this time at the Emirates Arena where he will kick off Friday's singles against world number 60 Denis Istomin.
The former world number 41 has mainly been playing on the second-tier Challenger Tour, but with Britain's star men Andy Murray and Kyle Edmund missing the tie due to fitness issues, Evans is back in the limelight.
"Did I think I'd be playing Davis Cup by the end of the year? No, not really," he admitted.
"Obviously with Andy and Kyle not being able to play this week, I was pretty lucky that I got asked to play and hopefully I'll take the opportunity and get a point on the board for the guys.
"I've felt pretty good. I've just been trying to get as much tennis as possible. I feel like I'm playing pretty good again, and hopefully I can just keep putting my game out on the court and improving.
"I've had some great memories during Davis Cup. I'm sure I'll be a little nervous going out to play but I'll look forward to it as well.
"Four months ago I was playing at the leisure centre down the road. So I'm really looking forward to getting out there and representing my country."
British number two Cameron Norrie will then face world number 434 Jurabek Karimov in the second singles rubber.
Norrie's Scottish father, who grew up in Glasgow, has flown over from his home in New Zealand to support the 23-year-old.
"He grew up here in Glasgow not far from King's Park, he went to the University of Stratchlyde here, so he lived here the majority of his life and he still has a filthy Scottish accent," said Norrie.
"From what I've heard the Scottish crowd gets pretty rowdy. It's going to be an incredible atmosphere. I'm looking forward to my first home tie."
Jamie Murray, fresh from his US Open triumph in the mixed doubles, and Dom Inglot take on Sanjar Fayziev and Istomin in the doubles on Saturday with the reverse singles on Sunday.
With the format of the Davis Cup changing next year the tie is no longer a relegation decider, but Great Britain need to win to be seeded in February's preliminary round.