Drone Gang Jailed For Prison Drug Drops
13 December 2017, 14:36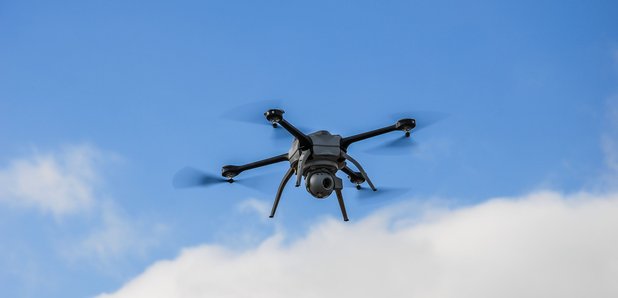 Eight offenders have been jailed after drones were used to smuggle cannabis and mobile phones into prisons in England and Scotland.
Craig Hickinbottom, who directed the "large-scale and persistent" operation from behind bars, was jailed for seven years and two months after being described as a "leading" player in the plot.
Drone pilot Mervyn Foster received a sentence of six years and eight months for his part in the conspiracy - which involved 49 provable drone flights and four so-called "throw-overs" of contraband.
Birmingham Crown Court was told the offences were committed between July 2015 and May this year at jails in Worcestershire, Staffordshire, Birmingham, Yorkshire, Cheshire, Liverpool, and Perth in Scotland.
Passing sentence, Judge Roderick Henderson said: "Prisons are difficult enough places to run - they contain people who are dangerous and vulnerable.
"Supplying things into prison that should not be there - drugs, phones, tools and the like - threatens proper management (of prisons) and creates real risks of violence and loss of control and discipline.
"To do that is desperately serious."
Remote-controlled drones, equipped with a fishing line and hooks, were flown to cell windows where inmates - in contact with the pilot - used tools such as an extendable broom handle to retrieve smuggled items.
Jail CCTV showed other prisoners then visiting the cells and walking out with packages, believed to be their illicit orders.
Hickinbottom's 32-year-old partner, Lisa Hodgetts, from Tividale, West Midlands, admitted money laundering and was given a 16-month suspended prison term.
Hickinbottom, 35, who was a prisoner at HMP Featherstone in Staffordshire, and later HMP Hewell in Worcestershire, organised deliveries to both jails during the conspiracy.
He admitted four counts of conspiring to bring contraband into prison, and conspiracy to supply psychoactive substances.
Foster, of High Street, Tipton, West Midlands, was described by the prosecution as the conspiracy's "prime organiser on the outside", and Hickinbottom's "counterpart".
The 36-year-old, who was a petty criminal with 31 convictions for 76 offences, worked with "right-hand man" John Quinn, 35, of Swancroft Road, Tipton.
Quinn was jailed for four years and eight months after admitting three counts of conspiracy and another of conspiring to supply psychoactive substances.
Hickinbottom's brother, 50-year-old John Hickinbottom, was jailed for four years and eight months for his "significant" role.
Terry Leach, 19, of Wednesbury Oak Road, Tipton, was given a two-year suspended jail sentence after being described as a "foot soldier" in the offending.
Ashley Rollinson, 21, of Waiver Road, Brierley Hill - who was only involved in one day of the conspiracy - was jailed for 11 months but has already served his sentence on remand.
Meanwhile, Yvonne Hay, 41, and her boyfriend, Francis Ward, 46, of Bloxwich Road, Walsall, were both jailed for two years and four months.
A warrant was issued for the arrest of another defendant after he failed to attend court.
Sanjay Patel, 37, of Telford, Shropshire, but formerly of Cheltenham in Gloucestershire, was given a four-month sentence for possession of a mobile phone in prison.