Drop Into Recession 'In The Balance'
29 June 2017, 07:16 | Updated: 29 June 2017, 11:10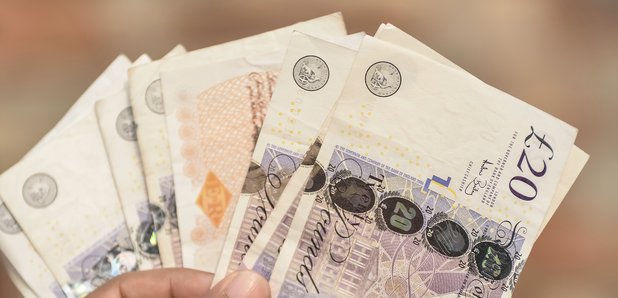 Economic experts have warned it is "in the balance'' whether or not Scotland formally goes into recession next week.
With the latest GDP figures due to be published in days, experts at the Fraser of Allander Institute forecast the Scottish economy will pick up in 2017 - but also warned performance continues to lag behind the rest of the UK.
The most recent figures for GDP in Scotland showed a fall of 0.2% over the period of October to December at the same time as the UK economy grew by 0.7%.
Experts at the think tank believe the Scottish economy will still grow over the year as a whole - and possibly more quickly than last year - but they also warned "further negative quarters of growth are highly possible''.
With the economy in such a "precarious position'', they demanded urgent action from politicians
The latest commentary from the Fraser of Allander Institute said: "During such times, it will be easy for the debate about Scotland's economy to be side-tracked by constitutional wrangling.
"This cannot be used as a justification - from across the political spectrum - for not undertaking an urgent and frank assessment of the best policies to support the Scottish economy.''
Over the last 10 years, economic output per head in Scotland has increased by just 1.2% - with the report making clear this was the total for the decade, not per year.
In the previous seven years, output increased by a total of 17%.
The report added: "We see little evidence that productivity in Scotland has fundamentally improved.
"Yes, the gap with the UK has narrowed but this is down to the UK's exceptionally weak performance.''
A "key driver'' for the lack of growth has "undoubtedly'' been the downturn in the North Sea, the think tank stated.
It said there was "increasing evidence'' this was only part of the situation, pointing also to the contraction in manufacturing in 2016.
The report continued: "Some have suggested that Brexit may be a factor. It is hard to argue that this explains the Scot/UK divergence.
"Moreover, services - around 75% of the economy and less likely to be exposed to external conditions - grew nearly twice as fast in the UK as in Scotland last year.
"Others have argued that the prospects for a second independence referendum may be having an impact, although there is little robust data to formally test this hypothesis (and indicators of international investment remain positive).
"Taken together, though, it is possible to argue that such effects may have had a greater cumulative effect on Scotland, especially to confidence.''
Economic growth of 1.2% is being predicted for Scotland in 2017, with this rising to 1.4% the following year and 1.6% in 2019.
The report warned unemployment could also rise - forecasting increases to 117,000 this year, 134,300 in 2018 and 143,750 in 2019.
"The Scottish economy continues to remain in a precarious position,'' it cautioned.
"All things considered, we still expect the Scottish economy to grow this year and create more jobs - albeit at rates well below trend.''
Fraser of Allander Institute director Graeme Roy, said: "The Scottish economy continues to lag behind the UK as a whole, with the scale of the gap growing rather than narrowing.
"On balance, our forecast is that growth will return in 2017, with tentative signs of a more positive outlook for Scotland's oil and gas sector and improving order books across Scottish businesses.''
He added: "In the current climate, sentiment can change quickly.
"Should the upcoming Brexit negotiations go badly, or the UK economy slows down more quickly than anticipated, then Scotland's economic prospects could take a sharp turn for the worse.
"That being said, a number of sectors should post relatively healthy returns this year. In particular, Scotland's food and drink and tourism sectors should benefit from the low value of Sterling.''
Scottish Conservative economy spokesman Dean Lockhart said: "Scotland's economy continues to badly under-perform thanks to this SNP government.
"As this report states, whether or not Scotland officially enters recession hangs in the balance.
"And that's while the rest of the UK powers ahead, so the SNP can't possibly blame Brexit.
"This is on the Scottish Government's shoulders and it has to explain what it is going to do to kick-start the economy it is in charge of.
"Make no mistake, Scotland has great potential. But that potential has been utterly neglected by an SNP government which has its priorities focused elsewhere.''
Labour's economy spokeswoman Jackie Baillie said: "Scotland is teetering on the brink of recession because Nicola Sturgeon has been more interested in running a campaign for a second independence referendum than running a government.''
She added: "With the new powers of the Scottish Parliament and the budget for public services more dependent on Scottish tax revenues than previously, we need a government with a laser focus on growing the economy and creating jobs.''
Economy Secretary Keith Brown said: "Today's report from Fraser of Allander confirms that the Scottish economy will strengthen across 2017, with financial and business services, tourism and food and drink among the sectors expected to grow.
"This comes after good news for Scottish jobs.
"Scotland's unemployment rate is at record low levels of 4% - equalling the previous all-time low - and is also at its lowest rate since the recession, and much lower than Fraser of Allander's post-Brexit forecast of 7% for this year.
"While challenges remain, the report also confirms emerging signs of confidence returning to the oil and gas sector, building on recent reports from Bank of Scotland and Aberdeen and Grampian Chamber of Commerce.''
He added: "While these signs are encouraging, we must be clear that the biggest threat to Scotland's economy continues to be Brexit - as this report from Fraser of Allander makes clear.
"To avert the 'Brexit negotiations going badly', as the report states, the UK Government must work with us and the other devolved administrations with the aim of keeping the UK and Scotland in the single market and customs union.''