First Minister meets Dunblane family after Florida school shooting trip
24 May 2018, 06:00 | Updated: 24 May 2018, 07:13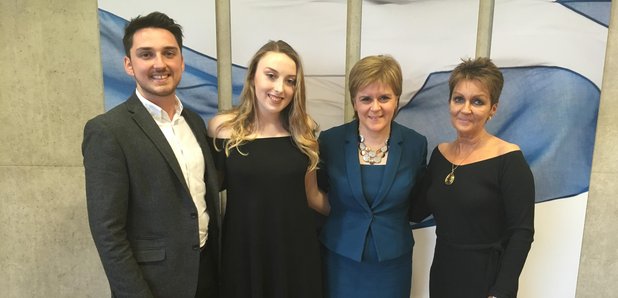 First Minister Nicola Sturgeon has met with the family of a Dunblane shooting victim after they visited Florida to support relatives of the Parkland tragedy.
Alison Crozier and her son Jack - who lost their five-year-old daughter and sister Emma in the 1996 primary school massacre, in which 16 children and their teacher were killed - were invited to Holyrood on Wednesday.
The pair travelled to the US with Heart's sister station LBC in March where they spoke about the impact of Emma's death, and the successful Snowdrop campaign which led to a ban on private handgun ownership in the UK.
Students at Marjory Stoneman Douglas School have demanded tougher gun laws in the US after 17 people were killed in the shooting on February 14.
During the meeting at the Scottish Parliament this week, Ms Sturgeon said: "It was a privilege to meet the Crozier family in person after speaking to them down the line when they were in America.
"The whole story of their trip to America hooking up with the Parkland campaigners is really inspiring because in Scotland Dunblane was a tragedy. It was something that will never be forgotten. But out of that came really positive change around gun laws".
Following the visit to Holyrood, Jack said: "It was really nice to see the First Minister was completely, unequivocally on our side. She was on the side of the Parkland students and the March for Our Lives movement.
"She was so strongly opinionated on it which I thought was good to see. It is amazing to see such strength of character coming from the leader of our country".
Alison said: "It was definitely positive. It was worthwhile meeting".
Our reporter Connor Gillies was in the meeting
The LBC trip was the latest move by Dunblane relatives to support Parkland families, students and campaigners.
Ten family members of victims and survivors recorded a video message entitled Dunblane Stands With Parkland, while several relatives, including Jack, spoke at a rally for US gun control in Edinburgh.
The event was one of several hundred held across the globe in support of the March for our Lives campaign which emerged in the wake of the Parkland shooting.
You can watch our special documentary from the Florida trip below.