Duncan Scott expecting frosty return home
17 April 2018, 19:12 | Updated: 17 April 2018, 19:14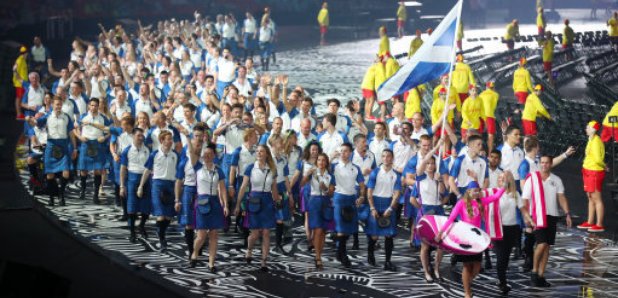 Duncan Scott believes coming home to a freezing flat will soon bring him back down to earth after his Commonwealth Games heroics.
But the swimmer was careful not to get too high after his six-medal haul in Australia, which was the best ever by a Scot at a Commonwealth Games.
The Stirling University student won one gold, one silver and four bronze medals to add to the relay silver he collected at Glasgow 2014.
However, the 20-year-old does not expect life to change much.
"My flatmate was away so I reckon my flat will be freezing," he told Press Association Sport after arriving at Glasgow Airport.
"It will just be the same. I've got an exam in three weeks. It will be the same old, same old, back to my old life."
Scott was Team Scotland's flag-bearer at the closing ceremony but he shielded himself from much of the hype.
"When I'm in a competition like this, the night before I swim I turn off all social media," he said. "And then it will be a day or two after I finish competing before I turn it on.
"But it's quite controlled the way I turn it on. I don't really see notifications.
"I have gradually been seeing messages coming in and all the hype.
"The support and messages I have had have been amazing and I have always had great support from family, friends but even beyond that.
"I don't know, a couple more people in the airport noticed me, I guess, but other than that it's been the same."
Scott insists he took as much pleasure in being part of Scotland's historic 44-medal collection as his own personal success.
"It's a huge honour to be part of the best overseas Games ever," said Scott, who clinched a place in the Great Britain squad for Glasgow's European Championships in August.
"Everyone's contribution has been phenomenal.
"The bad thing with swimming is you don't get to go to the opening ceremony, but you get to have this time afterwards where you are spectating and cheering on your team.
"Every night we went to the diving to support Grace (Reid), Lucas (Thomson), Gemma (McArthur) and James (Heatly), and they brought home two medals as well."
Heatly took bronze on the 1m springboard to claim Scotland's first diving medal since his late grandfather, Sir Peter Heatly, won gold 60 years earlier.
And the 20-year-old was happy to come home to some extra publicity after his surprise success.
"It's been pretty amazing, I am looking forward to seeing everyone in person now that I'm back, but my phone has just been going off, so I can't wait to get back and reply to all these messages," the Edinburgh athlete said.
"I finished competing a few days ago so I have had a lot of time to come back down to earth. It might all be brought up again though. Hopefully!"