Dungavel Immigration Centre To Stay Open
3 February 2017, 10:53 | Updated: 3 February 2017, 11:25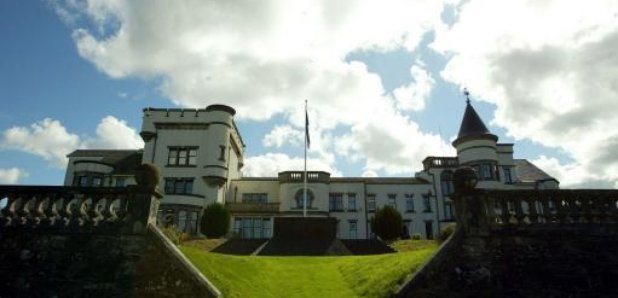 Dungavel detention centre is to remain open after plans to build a replacement unit near Glasgow Airport were rejected.
The Home Office announced last year that the controversial centre near Strathaven, South Lanarkshire, was to close at the end of 2017 and a short-term holding centre built in Paisley.
However, Renfrewshire Council has rejected the application, meaning Dungavel will remain open.
Campaigners had welcomed the planned closure of the detention centre but raised worries about its replacement.
Dungavel has been branded ''racist and inhumane'' and it has been at the centre of numerous protests in recent years over the treatment of detainees and the length of some detentions.
A Home Office spokesman said: "We always made clear that the closure of Dungavel immigration removal centre was dependent on the opening of a new short-term holding facility in Scotland.
"As the application for a new facility at Paisley was rejected, Dungavel will remain open.''
Dungavel has long been a political issue, with MSPs demanding an end to the detention of children at the centre, leading to a 2010 Westminster ruling that families detained north of the border would be moved to Yarl's Wood in Bedfordshire to give them access to specialist family, child and support services.
Detainees have also taken part in action inside Dungavel, with many refusing food in a protest against a suicide at the centre in 2007.
The Home Office had said Dungavel, which holds up to 249 detainees and is the only such centre in Scotland, is ''under-utilised due to its remote location''.
Plans for the centre beside Glasgow Airport would have had just 51 beds and the Home Office said the ''vast majority'' of stays would have been for less than a week.