E-Book Containing Competition Entries For Obama Visit To Be Released
13 September 2017, 07:08 | Updated: 13 September 2017, 07:09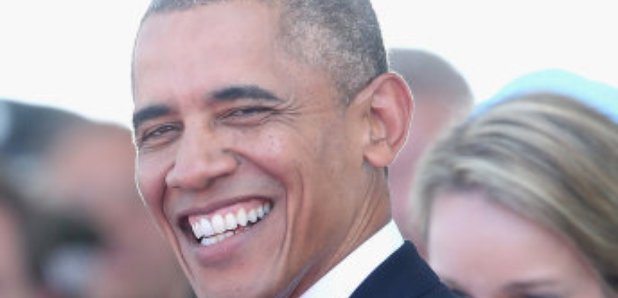 An ebook linked to Barack Obama's visit to Scotland earlier this year is being published by a charitable foundation.
The former US president played 18 holes of golf at St Andrews before hosting a charity dinner in Edinburgh in May.
The event, which saw 1,200 people pack into the EICC to hear a speech from the Democrat, raised more than £670,000 for Scottish charities.
The Hunter Foundation (THF), which organised the event, has announced it will publish an ebook containing all of the entries sent to its school competition to win a table at the dinner.
The entries from all over Scotland have been collated into a free-to-download book that showcases the views of young people on topics such as education, equality, healthcare and international aid, the foundation said.
Mila Stricevic's poem, If I Ruled Scotland, which won the competition for Hyndland Secondary School, is the first entry in the ebook.
Philanthropist Sir Tom Hunter, co-founder of the foundation, said: "These essays and poems were humbling, uplifting, challenging and often seriously funny.
"They made me pause for thought and ask myself - do we really listen to the young voices of Scotland enough?
"Their thoughts on ruling Scotland have some incredibly consistent themes; if you will a community of young Scots unknown to one another yet articulating the same vision; an anonymous, collective voice of hope.
"Through this ebook we hope that voice is heard and that all of Scotland listens, particularly our policy makers and politicians.
"Their voices tell us they care about our communities, our environment, equality for all, embracing our differences, caring for those who can't care for themselves, mental health, ambition and reaching for the stars. And having a laugh.
"We are a small nation that can so easily punch above its weight, enabling young voices is one small way in which we will achieve so much more for Scotland."
The ebook is available from http://www.thehunterfoundation.co.uk/ from Wednesday.