Economy report offers an alternative to Brexit 'despair', Nicola Sturgeon says
23 May 2018, 05:51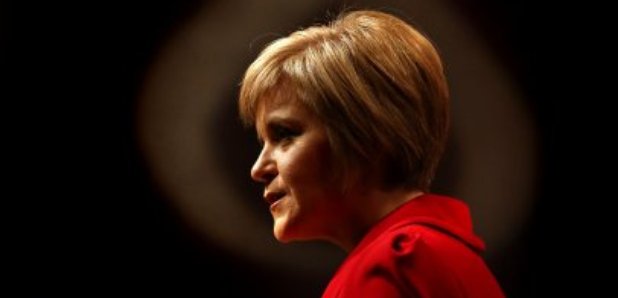 A new report on an independent Scotland's economic prospects offers an alternative to the "despair of Brexit", Nicola Sturgeon has said.
The Scottish First Minister and SNP leader made the comments after receiving the long-awaited findings of her party's economic growth commission.
Ms Sturgeon has already said the 354-page long report, to be published on Friday, will "restart the debate" on Scottish independence.
The SNP had tasked former party MSP Andrew Wilson with looking at economic policy options for an independent Scotland back in 2016.
His report will argue that, overall, the economies of small countries perform better than those of larger nations such as the UK.
Mr Wilson hailed the report as being the "most substantial work on Scotland's economic future that has ever been undertaken".
Ms Sturgeon said while Scotland's economy already has "strong foundations", work was needed for it to match the performance of successful independent nations of a comparable size.
She stated: "At a time when economic thinking and debate is heavily focused on how we limit the damaging impacts of Brexit on Scotland, this report provides an opportunity to step back, to look at Scotland's economic future with optimism and to focus on how we seize our opportunities and achieve our full potential as a nation.
"It is not a report about the timing of a referendum - rather, it focuses on the 'why' of independence and how we can use the powers it will deliver to build a stronger economy and a fairer society.
"In so doing, it heralds the start of a debate based on hope and ambition about the future of the country, rather than on the despair of Brexit."
The Scotland - The New Case for Optimism: A Strategy for Inter-Generational Economic Renaissance report is split into three sections, looking at Scotland's opportunities for economic growth, public finances and the key issue of what currency an independent Scotland could use.
The SNP will convene a series of National Assembly meetings over the summer to debate and discuss its findings, ahead of the party's annual conference in October.
Mr Wilson said: "There is much cause for optimism in Scotland's position and it is my sincere hope that the report generates serious and informed debate, not only in terms of future policy for the SNP, but among everyone with a stake in the success of our country."
The former MSP added: "Particular thanks must go to those who have lent their time, intellect and patience over the past 18 months.
"It has been a real privilege to chair such an outstanding group, focusing such talented minds on such a challenging topic.
"Scotland - The New Case for Optimism - sets out an ambitious but achievable prospectus, and its publication will mark the beginning of fresh debate on Scotland's economic future."