Emma Caldwell Murder Police Begin New Searches
4 April 2017, 12:17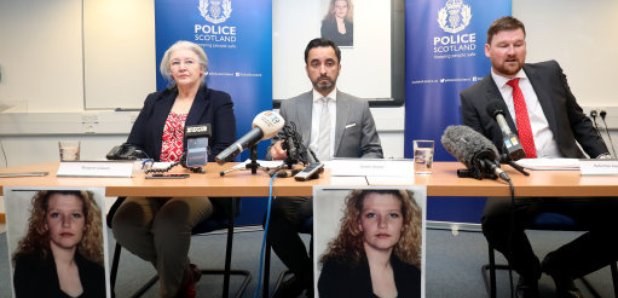 The mother of a woman murdered 12 years ago has said she grieves for her daughter every day as police revealed new developments in the search for her killer.
Emma Caldwell, 27, was found dead in woods near Biggar, South Lanarkshire, in May 2005.
The Crown Office asked Police Scotland to reinvestigate the unsolved case in 2015 after the original investigation failed to bring the killer to justice.
On Tuesday April 4, exactly 12 years since Ms Caldwell was last seen alive, police revealed they are carrying out searches near where her body was found, and are investigating a potential new sighting of her on the day she disappeared.
Ms Caldwell's mother Margaret urged anyone with information to contact police as she spoke at a press conference in East Kilbride.
She said: "Today is always a difficult day for my family as we are usually at home thinking of Emma, each in our own way.
"I think of Emma every day and every day I grieve for her. As a mother I know my pain will never come to an end but I am here to make a direct appeal to those who know or suspect they know who the killer is.
"Please do the right thing. As long as the killer is still out there another life could very well be in danger. If you are the one who took Emma's life then I ask you to come forward.
"Living with the guilt of taking her life must be dreadful. But if you have no conscience then be aware that my family and I will never give up fighting for justice on Emma's behalf.
"We can do no less for we love and miss her every day, not just today.''
Detective Superintendent David McLaren, who is leading the investigation, said it is entering a "really crucial phase''.
During the "extremely complex and wide ranging'' investigation, more than 5,700 witnesses have been spoken to, around 9,000 items and more than 6,000 documents have been seized, and more than 4,000 hours of CCTV have been identified.
Ms Caldwell turned to drugs, then prostitution to fund her habit, following the death of her sister.
Four men were arrested over her death in 2007 but the case later collapsed.
Police have now identified a wooded area at Roberton, near Biggar, where detailed forensic searches will be carried out in the hope of recovering items belonging to Ms Caldwell, whose clothing was never found.
Officers will carry out a fingertip search of one area while a marine unit examines a pond.
Mr McLaren said: "Emma had quite a large bag with her so there's potential for items to have been protected from the elements.
"The areas where we're searching are under quite a dense tree canopy so again a bit of protection from the elements, and we've seen in other cases where we can get DNA evidence even some considerable time after an item has been recovered.''
Detectives also have a "strong belief'' that other women may have been taken to the area, around 40 miles from Glasgow, in 2004/2005 and appealed for any of them to contact police.
The last recorded sighting of Ms Caldwell was on Butterbiggins Road on the south side of Glasgow at around 11pm on April 4.
But detectives now believe she may have been seen at the bottom of Argyle Street in Glasgow at around 11.30pm on the night she went missing.
Ms Caldwell, originally from Erskine in Renfrewshire, may have been seen getting into a black saloon car similar to a BMW that may have been owned by someone in the Dumfries area who regularly came to Glasgow.
Mr McLaren added: "I'd like to finally appeal directly to those closest to Emma's killer and who have suspicions. You may be a parent, a brother, a sister or partner of the person who took Emma from this world.
"I'd ask you to look in the mirror and ask yourself how you would feel if Emma was your daughter or sister. I need you to do the right thing and get in touch.''