Ex-FM Salmond Gets Sunday Radio Show
14 September 2017, 16:36 | Updated: 14 September 2017, 16:38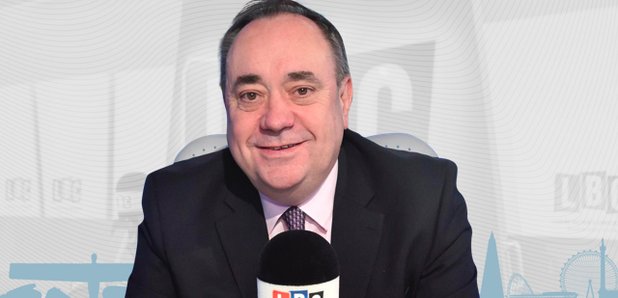 Scotland's former first minister Alex Salmond is to host a new weekend radio show on LBC.
The three-hour show, entitled Salmond on Sunday, will launch on September 17 from 3pm.
Global media and entertainment group said it would "tackle the nation's most important and talked about issues" with a programme of "fiery debate, intelligent discussion, breaking news and informed opinion".
The former SNP leader, who previously hosted a half-hour phone-in show on the station, has recently completed a month-long stint fronting his Alex Salmond Unleashed chat show at the Edinburgh Fringe Festival.
Mr Salmond, who lost his seat as MP for Gordon in June's snap General Election, said he was "really excited" about the new show.
He said: "This is a great spot to lead Britain's conversation. We will pick up the hot topics from the week's news and look toward what will make the headlines in the week to come.
"It is the quality of the conversation with the listeners which makes LBC shows. I am looking forward to the talk and the tweets."
James Rea, LBC's managing editor, said: "As a huge figure in British politics, Alex Salmond is widely recognised as a defining figure for Scottish nationalism.
"Armed with 30 years of experience, he is the ideal person to take on the nation's most important and controversial issues. We're very pleased to welcome him to LBC and look forward to his new show."