Extra Support Offered To Headteachers
15 June 2016, 12:27 | Updated: 15 June 2016, 12:29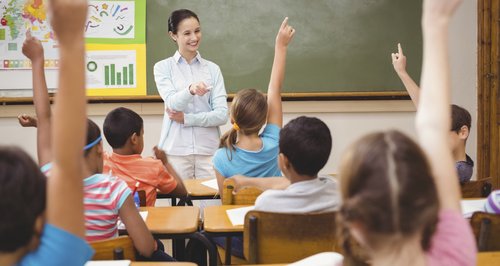 Headteachers will be offered extra training as part of efforts to close the attainment gap in schools, the First Minister has announced.
Nicola Sturgeon set out details of a package of professional support for new and experienced headteachers at a Scottish Government education summit in Edinburgh.
Under the plans, headteachers will be offered opportunities to develop their leadership skills, with a focus on strategies for closing the gap between rich and poor pupils, as well as financial management and understanding data.
An international exchange programme will also be launched for school leaders to learn and share ideas with their counterparts in other countries.
Ms Sturgeon also announced plans to work with councils to train "community education champions'' to provide additional support to headteachers.
The summit on raising attainment in schools was held at Craigroyston Community High School, where Ms Sturgeon was joined by Education Secretary and Deputy First Minister John Swinney to hear from teachers' representatives, young people, education experts, council leaders and opposition politicians.
She said: "Driving up attainment levels across Scotland's schools is this government's priority and we will seek out and listen to all new ideas and innovative approaches to deliver results in education.
"That is why today's summit is so important in bringing together experts from across Scotland and beyond to drive forward our plans to close the attainment gap and ensure our schools are world-leading.
"The discussions taking place today will inform our delivery plan for improving performance across Scotland. That plan will set out clear milestones for our next steps towards closing the attainment gap.
"To do this, we know we must ensure our teachers are empowered to deliver excellence in classrooms every single day.
"We must support them in their efforts to use their professional expertise and deliver the first-class education we know they can.''
Gillian Hamilton, chief executive of the Scottish College for Educational Leadership (SCEL), which will deliver the support package, said: "When we talk to headteachers we see a real desire for high-quality, sustained professional development that supports them in the challenging and rewarding role of headship.
"This package will meet that need and builds on SCEL's work in supporting educational leaders with the ultimate goal of improving outcomes for our schools, children and young people.''
Meanwhile, Mr Swinney has written to unions, including the Educational Institute of Scotland, Scottish Secondary Teachers' Association and the NASUWT Scotland, calling for their input to help cut teacher workload.
He said: "I took early action to reduce workload for teachers and ensure the greatest possible clarity around the curriculum.
"But I am keen to work with the teaching unions, local authorities, schools and other stakeholders to make further progress quickly on this important issue.
"That is why I have asked the teaching unions to provide me with their own specific, tangible ideas to reduce unnecessary workload for teachers and to de-clutter and streamline approaches in education.''