Family Of Barra Girl Killed In Manchester Attack Offered Support, MSPs Told
25 May 2017, 13:35 | Updated: 25 May 2017, 13:37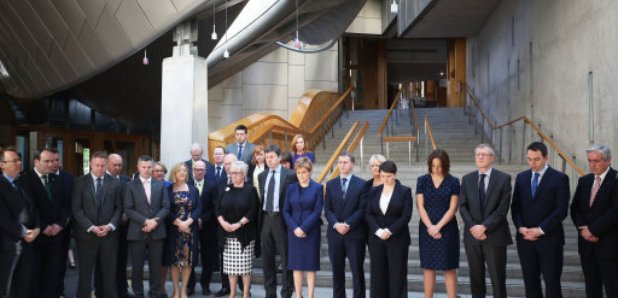 Educational psychologists are being sent to the Western Isles to support family and friends of a schoolgirl killed in the Manchester Arena terrorist attack, Scotland's First Minister has said.
Eilidh MacLeod, 14, from Barra, died in the explosion at the Ariana Grande concert on Monday and her friend, Laura MacIntyre, 15, also from Barra, is in hospital being treated for serious injuries.
Nicola Sturgeon paid tribute at a subdued First Minister's Questions and said the Scottish Government was working with the Comhairle nan Eilean Siar council on supporting the island community and pupils at the girls' Castlebay Community School.
She said: "I know we will all want to send our love and thoughts to Eilidh's mum and dad, and all of her family and friends, at this dreadful time for them.
"Our thoughts are also with Eilidh's friend Laura MacIntyre, who remains in hospital.''
She added: "I understand the director of education, who is himself an educational psychologist, is currently on Barra and a further educational psychologist and NHS clinical psychologist are travelling there today.
"Between them they are going to be focusing on the support that the families and those that were closest to those two girls will need.
"Their aim will be to keep things as normal as possible for the school that the girls attended but to make sure the support is in place for those who are going to need it.''
Other party leaders also paid their respects, with Scottish Conservative leader Ruth Davidson saying: "The thoughts and prayers of these benches are with the families of those who lost loved ones on Monday, particularly today with the family of Eilidh MacLeod, her friends and the whole Barra community.
"This is a tragedy that will be felt with everyone on the island, a close-knit community that today is grieving.''
Scottish Labour leader Kezia Dugdale added: "A death like this shatters most communities but it hits particularly hard in an island community like Barra.
"The family of Eilidh MacLeod are grieving. The family of Laura MacIntyre are just hoping and praying that their daughter will get better.''
Greens co-convener Patrick Harvie offered condolences to Eilidh's family and friends, and "sincere hopes for the recovery of all those injured'', including Laura.
"As the faces of those who have been lost or injured are seen and as we learn the names and something of the life stories of those who have been affected, there will be tears shed in communities like Barra, right across the UK, and I think far around the world as well,'' he said.
Mr Harvie also asked Ms Sturgeon to condemn intelligence leaks to the US media and if she agreed with the UK's decision to suspend information-sharing.
"It's been said that UK officials have expressed anger, disbelief and astonishment at the actions of the US intelligence services in leaking this information,'' he said.
The First Minister responded: "I do share the anger and disbelief of the UK Government that we have seen very sensitive details from this ongoing live investigation leaked to the media in America.
"That is completely unacceptable and I think all of us should make clear that that is unacceptable and cannot be defended in any way, shape or form.
"I think the UK Government is right to, hopefully for a short period, stop sharing intelligence information like this with the American government.''
Earlier, the party leaders gathered in the Scottish Parliament's Garden Lobby to observe a minute's silence in memory of those killed and injured in the bombing.
Part of a nationwide silence at 11am, politicians and staff joined together to pay their respects.
Elsewhere, the Princess Royal was one of more than 800 people at the Church of Scotland's General Assembly in Edinburgh who took part in the minute's silence.