Fifth of Holyrood staff 'have suffered sexual harassment or sexist behaviour'
1 March 2018, 15:12 | Updated: 1 March 2018, 15:13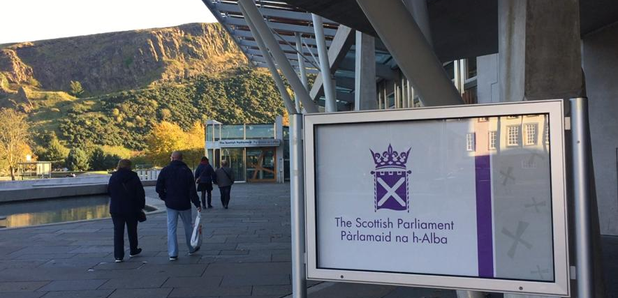 A fifth of staff working at the Scottish Parliament have experienced sexual harassment or sexist behaviour, a survey has found.
A confidential survey of more than 1,000 employees last year, set up after revelations emerged about sexual harassment in Scottish politics, found that 30% of women and 6% of men had experienced such behaviour while working at the parliament.

For women the most commonly reported issues were comments of a sexist nature (20% compared to 2% of men), looks or leers (16% compared to 3%) and unwanted physical contact (9% versus 1%).

For those who had experienced sexual harassment 45% said it came from an MSP, 40% said the perpetrator was a member of the Scottish Parliament staff and 20% said a member of MSP staff was responsible.

The perpetrators were reported to be predominantly male and in a position of power.

The most common response when victims were asked what they had done about such behaviour was nothing.

Presiding Officer Ken Macintosh said the findings made "difficult reading".

He said: "I am sorry that people have experienced this type of behaviour while working here. I am determined to address this.

"The party leaders and SPCB (Scottish Parliamentary Corporate Body) members have seen the results and all accept the report findings in full.

"All have reiterated their strong commitment to tackling these issues and to ensuring a zero-tolerance approach is not simply a policy statement but is a daily reality for those who work here.

"With that in mind, the Joint Working Group which was set up earlier this year has been considering the findings and has already started to identity the key strands of work it will take forward to address the issues raised by the report."

Kezia Dugdale MSP, a member of the corporate body, added: "While these results are concerning, they are by no means surprising.

"We have known for many years that sexual harassment and sexist behaviour is present throughout our society. This survey confirms that Holyrood is not immune to the problem.

"While it's incredibly important we support those who have experienced this behaviour and ensure perpetrators are held accountable, our overarching aim must be to create a culture which prevents sexual harassment and sexist behaviour from happening in the first place.

"That is our challenge and it will require the combined efforts of the Parliament, the political parties and all those who work here to achieve it."

Among the steps being taken is the development of a programme of education and development staff, special training for managers and improved reporting procedures.