Final Section Of Queensferry Crossing Set To Be Lifted Into Place
2 February 2017, 13:34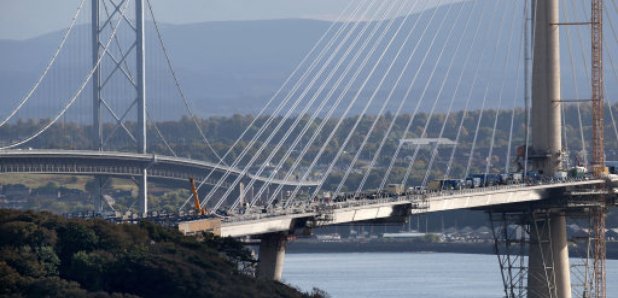 Preparations are under way to lift the final section of the new Queensferry Crossing into place and make the 1.7-mile link across the Forth a fully joined-up structure.
The last section of the bridge deck is expected to be slotted into place within the coming days, when a weather window allows.

The piece will be the last of more than 100 deck sections connecting the Lothians and Fife and its installation will close the final gap in the crossing.

The £1.35 billion mega-structure, which is replacing the Forth Road Bridge, is scheduled to be opened in May.

Scottish Economy Secretary Keith Brown tweeted on Thursday: ''Fantastic to see last deck section ready to be lifted to complete structure of Queensferry Crossing. Great work by all.''

Once complete, the project will move on to a new phase of finishing works, such as waterproofing and electrical work.

The weather on the east of Scotland has proved challenging for the construction team, but project bosses recently said they are working hard for the bridge to be opened this spring.

When the Queensferry Crossing opens, the Forth Road Bridge will be retained as a public transport corridor and a route for cyclists and walkers.