LISTEN: Fire Crews 'To Spend Most Of Day' Tackling Glasgow Fruit Market Blaze
17 August 2017, 09:37 | Updated: 17 August 2017, 12:17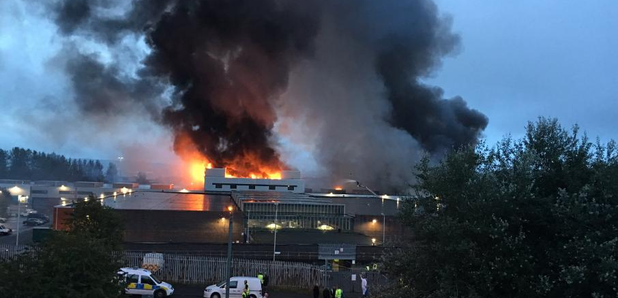 Firefighters tackling a large blaze at a warehouse in Glasgow have said they expect to be at the scene for most of the day.
Crews were called to the property in Blochairn Road, Royston, at 3.44am on Thursday.
The Scottish Fire and Rescue Service said 12 fire engines and four aerial appliances had been involved in the operation at the two-storey warehouse.
SFRS deputy assistant chief officer John Joyce said the fire began at the fruit market in Blochairn Road early in the morning.
He said: "The operation is dealing with an extensive and complicated fire in difficult conditions for our firefighters.
"We are pretty certain of the place it started. I think we will be here for most of the day."
The blaze began as around 400 workers began their shift selling fruit and vegetables to restaurants and bars in Scotland. Employees at the market were safely evacuated.
A spokesman for Police Scotland said: "We were called at 4am to a report of a fire within a warehouse in Blochairn Road.
"Emergency services are in attendance and no-one has been injured.
"A joint investigation with the Scottish Fire and Rescue Service is is under way."
A spokesman for City Property, which owns the site of the Blochairn Fruit Market said: "Our markets team are on site to support both our traders and emergency services.
"We are hugely relieved that at this stage it appears no one has been injured and we have contacted all of our traders to check their staff are safe.
"We would like to thank the emergency services for their quick response. Our priority now is to establish alternative arrangements in order that normal business can resume as soon as possible.
"Plans are now progressing to put temporary measures into place to assist our tenants as best as we possibly can."