Fire service facing £389m capital backlog
31 May 2018, 06:35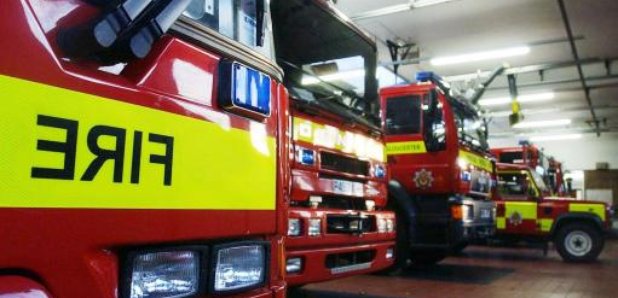 The fire service is facing a £389 million backlog in vehicle and property maintenance, a report has warned.
Audit Scotland said the capital backlog facing the Scottish Fire and Rescue Service (SFRS) was "insurmountable" without further transformation and investment.
Auditors said that if capital spending remains at 2017/18 levels the current £389 million maintenance backlog will reach £406 million over the next 10 years, and warned that "the risk of asset failures, such as vehicle breakdowns, will increase significantly".
The report said: "To bring its property, vehicles and other assets across Scotland up to a minimum satisfactory condition and maintain them over the next 10 years, the SFRS requires an average annual investment of £80.4 million (three years at £170 million and seven years at £42 million).
"To simply ensure that current assets do not deteriorate any further than the current condition would require an annual investment of £37.8 million over the next 10 years but this would mean the SFRS's property, fleet and other assets do not meet the needs of a modern service.
"It is unlikely that funding will be available to achieve either of these options."
Audit Scotland said it was "imperative" that the service reviewed and reshaped its capital assets, which could mean "closing, moving, sharing or changing the use of some of its properties as well as considering the range and deployment of its fleet of vehicles".
An SFRS spokeswoman said: "We clearly inherited a substantial capital and maintenance backlog from the eight legacy services.
"We are moving to address this backlog and modernise our service, and have invested around £94 million in our property, vehicle fleet and other assets since our national service launched in 2013.
"We have improved vehicle maintenance schedules in many areas which is supported to the very highest possible standards by our teams at Dundee, Inverness, Glasgow and Edinburgh."
She pointed to a range of multi-million pound investments in bases, equipment and vehicles, including the launch earlier this month of 40 new fire appliances, representing a £7.6 million investment in the safety of rural communities.
"These investments, coupled with service transformation, will ensure that communities across Scotland remain protected from emerging risks and threats," she said.
The report praised the service's slow but steady progress with integrating the eight former services into a single body and strong financial management.
SFRS was now in a good position to complete the process with a deal to harmonise firefighters' pay and conditions, it said.
Auditor General Caroline Gardner said: "The Scottish Fire and Rescue Service has an ambitious vision that involves significant changes to make it a more flexible, modern service.
"It has been working towards this for some time and has taken a cautious and measured approach due to a range of contributing factors.
"It now needs to press ahead with transformation so that it can respond to the changing needs of the public and can address its increasingly unsustainable model of delivery.
"This will take time to achieve and will mean difficult decisions about how the SFRS deploys its people and resources."
SFRS chief officer Alasdair Hay said: "This report recognises our commitment to putting in place the necessary operational, governance and financial foundations that will enable us to transform the service to do so much more for the people of Scotland."
He added: "We also recognise the areas for improvement highlighted in the report. Each of these are being prioritised and we are confident we will address the recommendations set out by Audit Scotland."
Community Safety Minister Annabelle Ewing said: "I welcome Audit Scotland's recognition of real progress made by the Scottish Fire and Rescue Service, and that it is in a good position to complete the process of reform."
She said ministers are working with the service to identify and provide the capital funding it needs for buildings, fleet and equipment.
"This year the Scottish Government increased the spending capacity of the service by £15.5 million to invest in transformation plans - and maintained an increase of £21.7 million in capital funding announced in the 2017-18 Budget," she added.
Opposition parties accused the SNP administration of under-funding the service.
Tory Liam Kerr said: "The SNP government has allowed a maintenance backlog of £400 million to build up and that's entirely inexcusable.
"As firefighters themselves are warning, if equipment and vehicles aren't properly maintained, that will have implications for staff and public safety."
Scottish Labour's Daniel Johnson said: "The fact that the situation is so bad that fire engines may not even be able to run is a national scandal that could put lives at risk.
"Nationalist ministers must urgently explain how they are going to bridge this funding gap and give our brave firefighters the support they need and deserve."