First Minister Reassures Public Over Queensferry Crossing Work
30 November 2017, 13:46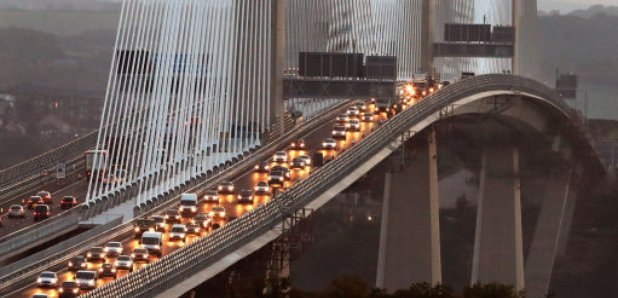 Further work on the Queensferry Crossing will done in a way that "minimises inconvenience" to the public, the First Minister has said.
The £1.35 billion bridge will be partially closed for surfacing work from Thursday to Wednesday.

Transport officials said more lane restrictions could be expected on the crossing over the next 10 months due to ''snagging'' issues.

Nicola Sturgeon said the work beginning on Thursday was "the only identified work" requiring peak-time lane closures.

She sought to give reassurances during First Minister's Questions at Holyrood as opposition leaders accused the Scottish Government of "pushing through" the bridge's opening in September and failing to be upfront with the public.

She said: "Yes there will be further snagging works required over the coming months, again entirely normal on an infrastructure project.

"The work that will start tonight is the only identified snagging work that will require peak-time lane closures. Any future lane closures that can't be avoided will be at night, not during the day, and not during peak hours.

"Under the contract all snagging works are carried out at no additional cost to the Scottish Government."

Work is scheduled to begin at 10pm on Thursday and finish by 6am on Wednesday December 6.

During that time, southbound traffic heading towards Edinburgh will use the Forth Road Bridge, while northbound traffic will use the Queensferry Crossing.

Transport Scotland told a Holyrood committee that issues with road surfacing were known about in August - before the crossing's opening - but a solution was not found until a ''couple of weeks'' ago.

Ms Sturgeon said: "When the solution to this particular piece of work was agreed ministers were told - that happened on Tuesday of last week.

"As soon as there was then confirmation from the Met Office about the weather window - that happened on Monday this week - Parliament and the wider public were informed.

"In other words, there was no delay, things happened completely timeously."

Scottish Conservative leader Ruth Davidson accused the government of "dripping out information" on the bridge works.

She said: "Transport Scotland knew that the road over the bridge was faulty when the bridge was opened back in August, because that's what they said in Parliament yesterday, yet the Transport Minister said this morning that he knew nothing about the partial closure until last week.

"What jars here is the way that they pushed through the opening of this bridge in the summer and claimed it as a symbol of SNP competence, but now there's a problem it's 'don't look at us we're just the Scottish Government'.

"In September it was jobs done and pats on the back all round, but on Monday we were told there would be another five days of work needed and yesterday those five days became another 10 months of possible disruption.

"It's the dripping out of this information rather than simply levelling with people that's damaging the public's trust."

Scottish Liberal Democrat leader Willie Rennie said: "Who spends over a billion pounds on a bridge then closes it weeks later?

He added: "With work predicted to last until September next year the completion of this crossing will be two years late. People deserve openness at last from this government.

"This government's priority has been to not disrupt the ceremony with troublesome facts."