First Minister urges Scots to avoid travel in 'very extreme' weather
1 March 2018, 15:18 | Updated: 1 March 2018, 15:22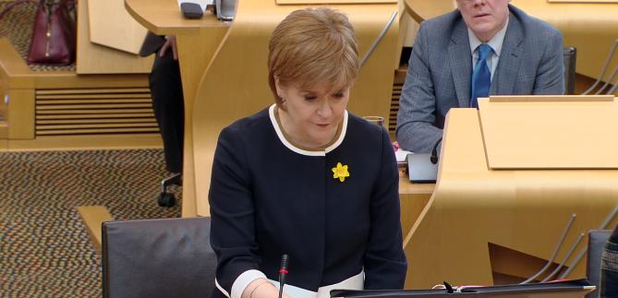 First Minister Nicola Sturgeon has warned Scots not to travel while "very extreme" arctic weather conditions are gripping the country - telling the public that if they did attempt a journey there was a "significant risk" they could end up stranded.
She also sent a "blunt" message to transport company bosses, who had continued to send drivers out on to the roads despite official warnings to avoid non-essential journeys.

Traffic cameras covering the M80 motorway - where hundreds of drivers were trapped in their cars overnight after a combination of extreme weather and jack-knifed lorries blocked the road - showed that "there were far more HGVs on that road than there should have been when a red warning was in place", Ms Sturgeon said.

She added: "I saw some branded HGVs in pictures yesterday and given the branding on them I would struggle to say that their transport was unavoidable.

"So that is a message I think should go out very strongly from this chamber to companies who use HGVs during weather conditions like this."

She spoke out at First Minister's Questions at Holyrood - which went ahead despite the severe weather conditions.

Although the red level warning put in place for much of central Scotland was lifted earlier on Thursday, the Met Office extended the high level amber alert over many parts until Friday morning

Ms Sturgeon said: "That means the advice today for the general public remains do not travel unless it is unavoidable."

The First Minister told people: "While everything possible will be done to keep roads clear and open, if you do travel during this period you do face significant risk of encountering blocked roads and possibly becoming stranded."

Ms Sturgeon said the situation on the M80 was now "improving" as she praised all the police, fire service, mountain rescue teams, volunteers and others for efforts to keep the stranded travellers safe.

The Scottish Government's resilience committee - the equivalent of the UK Cobra emergency committee - has been meeting regularly to monitor the situation, with efforts now focusing on helping essential workers such as NHS staff get to work.

The severe weather conditions forced the Scottish Conservatives to cancel their conference, which had been due to take place on Friday and Saturday in Aberdeen - with Ms Sturgeon thanking Tory leader Ruth Davidson for the "responsibility that has been shown around the arrangements for their party conference".

The First Minister also sought to assure people that "every possible resource will be brought to bear to ensure we are keeping the country moving as far as we can, given the travel warnings that are in place, but also ensuring that there is a recovery as quickly as possible once those warnings are lifted".

More than 200 snow ploughs and gritting vehicles have been operating across Scotland's major road network, she said, adding that more than 360,000 tonnes of salt were available to treat carriageways.

The First Minister also urged bosses to "be flexible and to put the safety of their staff first at all times" when dealing with workers who are unable to travel because of the weather.

That message was echoed by Greens co-convener Patrick Harvie, who said no employees should be left in a position of choosing between travelling unsafely in dangerous weather conditions or staying home and losing pay.

"Given the prevalence now of casualised work, zero hours contracts and the gig economy, does the First Minister agree that no employers should put an employee in the position of losing pay in order to stay safe?" he asked.

Ms Sturgeon said: "I would take this opportunity to encourage employers, to urge employers... to be flexible and above all else to make sure that they are putting the safety of their workers first and above anything else.

"When weather warnings, red or amber, are issued as they have been in recent days, these are not warnings just issued for the sake of convenience, these are warnings issued for the sake of the safety of the public and particularly the travelling public.

"All of us have a responsibility to make sure that these warnings are heeded and that very definitely includes employers."