First Minister's Tribute At Gordon Aikman Funeral
18 February 2017, 12:07 | Updated: 19 February 2017, 09:52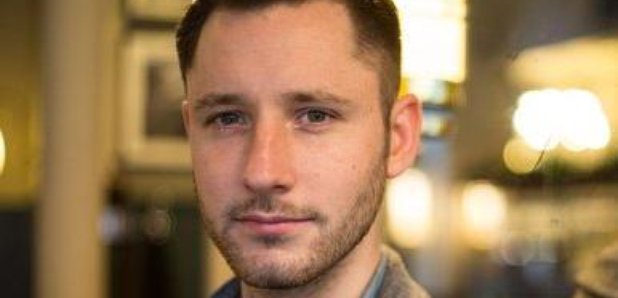 Motor Neurone Disease (MND) campaigner Gordon Aikman will be remembered as a ''hero'' who faced up to his disease with ''incredible courage and dignity''.
First Minister Nicola Sturgeon, former prime minister Gordon Brown and Scottish Labour leader Kezia Dugdale were among hundreds paying their respects to the 31-year-old, who died earlier this month.
A funeral service was held at Warriston Crematorium in Edinburgh before a larger memorial service in the city where Mr Aikman's husband Joe Pike led the tributes.
He said: ''Life is never without Gordon and never will be without Gordon.
''He is gone but I, like so many others, now see life through Gordon's eyes.
''He has made me a better person because, even when he was dying, Gordon taught us all so much about how to live.''
Mr Aikman was 29 and working as the research director for the Better Together campaign when he was diagnosed with MND in 2014.
He focused his efforts on combating the degenerative disease and formed Gordon's Fightback, successfully lobbying the First Minister to double the number of MND nurses through the NHS.
He also raised more than #500,000 for research to help find a cure for the terminal condition and was instrumental in the successful campaign to change the law so that people at risk of losing their voice as a result of a medical condition can access voice equipment on the NHS.
Ms Sturgeon said the MND campaigner was well known to the Scottish Government before she met him in person as he was personally responsible for hundreds of Freedom of Information requests sent to ministers.
She joked: ''Ministers had, at that time, what I will politely describe as mixed feelings for Gordon but we all had admiration for his tenacity.''
Despite campaigning on opposite sides of the Scottish independence debate, the First Minister said she found him an inspiration as he combined treatment with his work and campaigning.
''Scottish politics, which is never knowingly not tribal, was even more so at that time,'' Ms Sturgeon said.
''We were all, Gordon included, firmly embedded in our Yes and No camps but he reminded us that some things are simply more important.''
She added: ``Gordon faced up to his diagnosis with incredible courage and dignity.
''His campaign to raise awareness of MND and achieve better care and treatment for those diagnosed was inspirational and will make a huge difference for others in the future.''
Mr Aikman, from Kirkcaldy in Fife, received a British Empire Medal in the Queen's Birthday Honours in 2015 and an honorary doctorate from the University of Edinburgh in the same year for his work to transform care for people with MND and his efforts to find a cure.
Ms Dugdale, who had been a close friend of Mr Aikman, said: ''Today I'm saying goodbye, but also thank you.
''Gordon gave us all something so special. He gave us his friendship, his courage and the determination to make things better for those who follow.
''He did so much good in such a short space in time. We miss you terribly but pledge to honour your life in how we now choose to live ours - to savour every day.''
Pictures of Mr Aikman throughout his life were on display at the memorial and The Edinburgh University Singers choir performed.
Alistair Darling, who worked with Mr Aikman in Better Together, paid tribute to his friend before reading from the poem The Prophet by Kahlil Gibran.
The former chancellor raised a laugh when he said: ''It takes some convincing to get me to agree to have a bucket of cold water over my head but I did it because Gordon was an inspiration.''
He added: ''Truly, we have lost a hero but he leaves us greater hope that one day there will be a cure. That was what he wanted. We will not forget him.''
Instead of flowers, his family asked that donations be made to GordonsFightback.com to help support efforts to find a cure for MND.