Five injured in crush before Celtic v Rangers match
3 September 2018, 07:14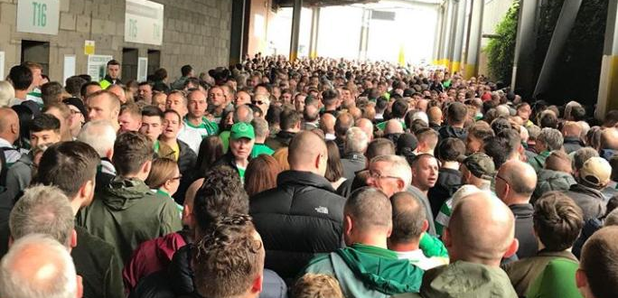 Five football fans have been treated after a crush before the first Old Firm game of the season.
The incident happened before Sunday's Celtic v Rangers match in Janefield Street at Parkhead as fans tried to get into the stadium before kick-off.
Police Scotland said one person was taken to hospital after falling from a wall, while four others were treated by first aiders at the scene before attending the match.
Chief Superintendent Brian McInulty said: "This was a dynamic situation, occurring 10 minutes before the match started.
"Officers and stewards reacted quickly upon realising there was an issue and put in place measures to relieve the congestion.
"This included putting in place cordons to prevent further entry at Janefield St and opening up London Road to allow fans to access the stadium from the south.
"We work closely with Celtic Football Club to ensure the safety of all fans attending matches.
"We plan and practice various scenarios to ensure that if an incident occurs it will be dealt with as quickly as possible, as happened in this case.
"We will review today's incident and work with Celtic to ensure any learning is quickly put in place."
Celtic supporter liaison officer John Paul Taylor posted on Twitter: "Apologies to fans affected by overcrowding issue at North Stand earlier, the Club will be investigating the cause to ensure no recurrence."
In a statement, Celtic Football Club said: "We are aware of the issues caused by congestion prior to kick-off.
"We are pleased that stewards and police were able to assist quickly and we thank our supporters for their patience shown while the matter was being dealt with.
"We will work closely with police to investigate and review this matter. The safety of our supporters will always be our priority."