Flags At Half Mast In Tribute To Jo Cox
17 June 2016, 10:30 | Updated: 17 June 2016, 10:33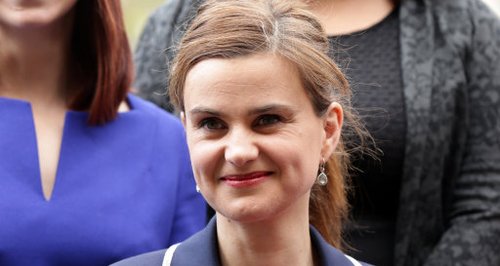 Flags are flying at half mast in Scotland as a mark of respect to Labour MP Jo Cox.
The standards at Scottish Government buildings, the Scottish Parliament and Palace of Holyroodhouse in Edinburgh were lowered in tribute to Mrs Cox, who was shot and stabbed to death in the street outside her constituency advice surgery in Birstall, West Yorkshire.
Campaigning in the European Union referendum has also been suspended across Scotland and a vigil will be held in Glasgow's George Square on Friday evening.
Mrs Cox, a mother of two children aged three and five, was attacked by a man reportedly shouting ''Britain first'' at lunchtime on Thursday.
Witnesses said her assailant kicked and stabbed her, and then shot her several times, the final shot aimed at her head.
The alleged gunman was arrested near the scene soon after the attack.
Scottish Labour leader Kezia Dugdale has tabled a parliamentary motion urging people to heed the call from Mrs Cox's husband Brendan Cox to "fight against the hatred that killed her''.
The motion pays tribute to the MP's "dedication and commitment to creating a better world, particularly for the poorest and most vulnerable people''.
Ms Dugdale also called on all parties to work together to "conduct our public debate with good humour, understanding and her enduring spirit to make the world a better place.''
Scottish politicians vowed to continue their constituency business amid concerns over safety and security.
First Minister Nicola Sturgeon tweeted: "Politicians all over the country will hold Friday surgeries today. We'll do so with heavy hearts. But it's what we do. May it never change.''
Deputy First Minister John Swinney also wrote on Twitter: "Today I will do what I have done almost every Friday for 19 years - try to help constituents at my surgery. Today feels very different.''
Shadow Scottish Secretary Ian Murray paid tribute to a "fun and loving colleague'' who he described as "determined and compassionate''.
Referring to his schedule of events over the next few days, Mr Murray said: "We will do an assessment today on the risks of doing those but it's absolutely right that we continue to do what we've always done and show the public that members of parliament are accessible.
"It's very difficult to try and construct a set of circumstances between any elected members and the public of how you could have prevented this particular incident from happening.
"They've happened before, let's hope they don't happen again, but that's the risk that everyone takes when we are in the frontline with the general public, particularly at a time when political discourse is so heightened.''
He added: "I'm very much of the view that we should look at perhaps recalling parliament on Monday so that the chamber can come together, not just to pay the rightful respects to Jo and make sure her memory lives on as an active and compassionate and liked member of parliament, but it would allow us to to examine some of these issues about how parliament should operate.''