FM: May Must Concede On EU Customs Union
28 May 2018, 12:10 | Updated: 28 May 2018, 12:13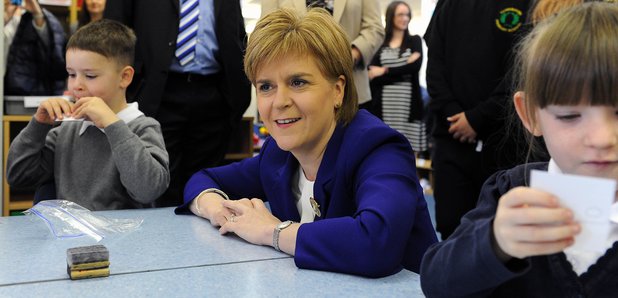 Theresa May's government will "sooner or later" have to concede that the UK must remain in a customs union, Scotland's First Minister said.
Nicola Sturgeon claims this was the "only credible and sustainable" option for the UK after Brexit, but added that the Prime Minister was only listening to "mad Brexiteers".
While some Tory politicians, such as Foreign Secretary Boris Johnson, want the UK to pull out of both the customs union and the single market, Ms Sturgeon insisted maintaining these relationships would be in the country's best interests.
She spoke out after a meeting with the European Union's chief Brexit negotiator Michel Barnier in Brussels.
Ms Sturgeon said afterwards: "I was very clear with Michel Barnier this morning that I wanted to see not just Scotland but the UK as a whole remaining within the single market, that's the position the Scottish Government has taken all along."
On the issue of a customs union, she told Politico: "Staying in the customs union is in Scotland's interest, but it is not just in Scotland's interest.
"In my very, very strong view it is in the interest of the whole of the UK to stay in the customs union, it (the UK Government) would be cutting off their nose to spite their face if they turned their back on that ."
The SNP leader argued that a customs union was important to prevent the return to a hard border in Northern Ireland but added that without similar arrangements for Scotland it could be left at a "competitive disadvantage".
She stated: "If there is a situation where Northern Ireland has a different relationship with the single market, of course that raises additional issues for Scotland, I think actually it raises a whole lot of issues for the UK Government to agree to a separate relationship with the EU for Northern Ireland which is why they are in such a mess around these negotiations at the moment.
"All of this takes us back, I think the only credible and sustainable option here is for the UK to remain within a customs union. It's a question of whether they concede that now or are forced to concede that later.
"If they concede it now we might start to see some progress in these talks, that would be better than waiting till later."
While Mrs May has ruled out keeping the UK in the single market and customs union after Brexit, the First Minister insisted in this regard that "the Government's position is unsustainable".
And she added there was still "reason to be hopeful that is something that can be achieved".
Ms Sturgeon said: "I don't think anybody who is in favour of this at home should be giving up on the single market, customs union options."