FM St Andrew's Day Message Of "Kindness"
30 November 2017, 07:12 | Updated: 30 November 2017, 07:14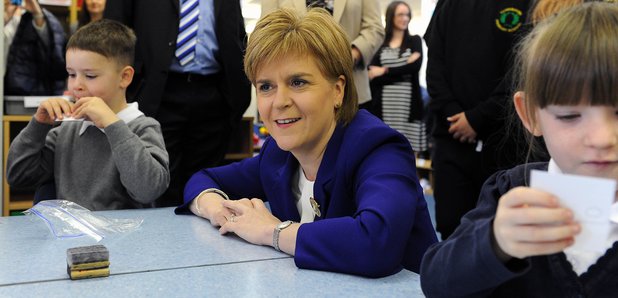 Nicola Sturgeon is calling on Scots to mark St Andrew's Day by performing an act of kindness.
The First Minister said that given patron saint's "values of compassion and solidarity" this was a way to celebrate Scotland's national day.
She stated: "It's a great way of marking this special day - and of making life a little bit brighter for our friends and neighbours."
Ms Sturgeon made the call in her St Andrew's Day message, with events taking place across Scotland and beyond to celebrate the country's history, culture and people.
There are nine major events taking place in Scotland, ranging from a fire show and fireworks display in St Andrews to a week long celebration of music and film in Stornoway.
The First Minister said: "Of course, the celebrations aren't just taking place here in Scotland. In nations right across the world, people with Scottish heritage - and people who are Scots at heart - will celebrate St Andrew's Day - and all that is best about our country.
"This year we're looking to harness that kind of enthusiasm for a very special cause.
"The values of compassion and solidarity are central to the story of St Andrew. They are also a big part of Scotland's national identity. So we're encouraging everyone to celebrate these values, by performing an act of kindness on St Andrew's Day.
"That could mean helping out your neighbours, giving time or money to charity; or simply offering friendship and company to those who need it most."
Meanwhile the Prime Minister used her St Andrew's Day message to stress that Scotland "has a special place at the heart of our precious union of nations".
Theresa May highlighted Scottish contributions to both the UK and the wider world, highlighting both the "creativity and ingenuity" of Edinburgh's festivals to Scotland's defence industry "making world-leading warships on the Clyde".
Mrs May said: "I am proud that as Prime Minister of our United Kingdom, the government I lead is committed to doing everything possible to support Scotland's continued success.
"That includes investing over £1 billion in City Deals that have backed projects from five new technology innovation hubs and the new concert venue in Edinburgh, to the V&A opening in Dundee next year."
She added: "It is that partnership between all the nations of the United Kingdom that makes us even stronger.
"So today, let us take confidence from the contribution that Scotland will make in helping the United Kingdom to secure a bold, confident and prosperous future as a truly global nation."