FMQs: Sturgeon urged to 'stop cutting beds'
11 January 2018, 13:57 | Updated: 11 January 2018, 13:58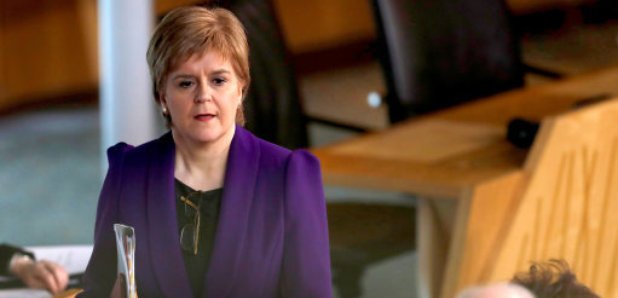 Ruth Davidson has called on the First Minister to stop cutting hospital beds while Scotland is in the midst of a "flu crisis".
Nicola Sturgeon said the rate of flu infections was now four times higher than a year ago, with 107 Scots per 100,000 of the population suffering from the virus in the first week of January.
Despite this she insisted the NHS was "coping admirably" as she claimed the health service in Scotland was the best in the UK.
The SNP leader spoke out as she came under sustained pressure from Ms Davidson, Labour leader Richard Leonard and Liberal Democrat Willie Rennie over the performance of the NHS this winter.
The Scottish Conservative leader said: "People are waiting too long in A&E departments because there are no beds for them on wards, and because many of those hospital beds are taken up by patients who are waiting for their social care arrangements.
"But this SNP government has cut both hospital beds and elderly social care places, so when something like a flu crisis hits, the system breaks down.
"We need a moratorium before the next crisis, so will the First Minister promise to stop cutting hospital beds until patients have somewhere to go?"
Mr Leonard claimed the First Minister had been "found out on her NHS spin".
He used First Minister's Questions in the Scottish Parliament to highlight the case of 80-year-old Tom Wilson from Newtongrage in Midlothian, who he said waited more than three hours for an ambulance after a fall on New Year's Day, before spending 13 hours on a trolley in A&E.
Official figures this week showed A&E departments had recorded the worst performance against a key waiting target since weekly reporting began, with 78% of patients dealt with in four hours - significantly below the Scottish Government's 95% target.
Ms Sturgeon hit back, saying: "I don't know if Ruth Davidson has bothered to look at the news this morning, where clinicians in England are saying that they have run out of beds in the NHS."
The higher flu rate in Scotland means the health service here is under greater pressure than the rest of the UK, she added.
The First Minister said: "Nevertheless, Scotland's NHS remains the best-performing NHS anywhere in the United Kingdom.
"And it is about time that the opposition recognised the achievements of those working so hard on the frontline of our National Health Service."