Food Banks Hand Out 1.2 Million Emergency Supplies In A Year
25 April 2017, 06:42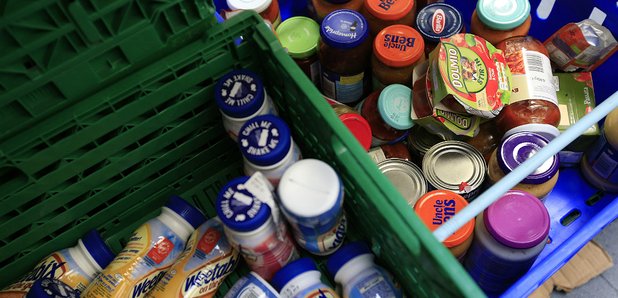 A record number of almost 1.2 million emergency supplies were given out at food banks in the past year, new figures reveal.
The Trussell Trust said its network provided 1,182,954 three-day food supplies to people "in crisis'' in the year to March, over 70,000 more than the previous 12 months.
The charity said almost 440,000 supplies went to children.
Food banks in areas where the new Universal Credit (UC) benefit was introduced saw an average increase in referrals for emergency food of almost 17%.
The trust said the effect of a six-week waiting period for a first UC payment could be serious, leading to debt and rent arrears. Benefit delays and changes remain the biggest cause of someone being referred to a foodbank by a doctor, social worker or jobcentre.
David McAuley, chief executive of the Trussell Trust, said: "The move to simplify an often complex welfare system is a welcome one, but any large reform can have unforeseen consequences.
"Food banks see first-hand how changes to the welfare system affect people on the ground and so can offer an early warning to decision-makers.
"We are sharing our early observations with the Department for Work and Pensions to ensure any adverse side-effects Universal Credit can have on people are addressed before full rollout is completed.
"We have been heartened by Secretary of State Damian Green's willingness to engage, his department's work to pilot improvements, and the recent changes to the Universal Credit taper rate which mean people moving into work will keep more of their earnings.
"We hope our insights can inform efforts to make sure the values on which Universal Credit is built are delivered in practice. To stop UK hunger, we must make sure the welfare system really does work for everyone.''
An engineer who was made redundant after 37 years spoke of his experience of having to rely on a food bank.
Speaking anonymously, he said: "At the age of 52, I've struggled to get a new job. I applied for Universal Credit and was told I would have to wait for at least six to eight weeks before I received any money. Who can live on nothing for two months?
"It was only when I could no longer ask family and friends for money that I turned to Citizens Advice for help - they referred me to the food bank.
"Without the food bank, I honestly don't know where I'd be. I was living on nothing during that period. It's hard, especially when you're been working for so long, and I did get very depressed and distressed. The people at the food bank pulled me out of the mire.''
The Trussell Trust has more than 420 food banks, with people having an average of two referrals in the past year.