Football policing review following Old Firm crush
27 September 2018, 14:08 | Updated: 27 September 2018, 14:09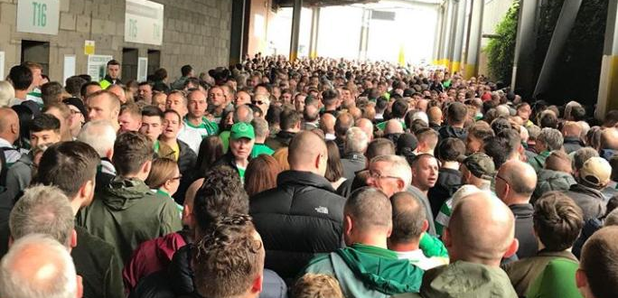 An independent expert will be commissioned to review policing at football matches after fans were injured in a crush at an Old Firm game.
Five people needed medical treatment following the incident at Parkhead as fans tried to get into the stadium before the first Celtic v Rangers game of the season on September 2.
Deputy Chief Constable Will Kerr said Police Scotland has an "enviable reputation" for how it polices large events, but that any "mature organisation" has to be able to challenge itself about how it could do better.
He told the Scottish Police Authority board meeting in Stirling that the appointment of the expert will be finalised in the next couple of weeks, and the review should be completed by Christmas.
He said: "Police Scotland has an enviable reputation for how it polices large public order, public safety events, recently the Ryder Cup, most recently the European Sports Championships or the Commonwealth Games.
"Whilst we're comfortable in how we police football matches, any mature learning organisation has to be comfortable enough to challenge itself and to reflect a bit, particularly where there is a public debate around how football matches are policed and to challenge ourselves about whether we could do it better, whether we could do it differently, whether we could make some changes, and that's exactly what, having spoken to the chief over the last couple of years, we're very keen to do.
"I'm writing the terms of reference for an independent professional assurance review of how we police football matches generally across Scotland
"Essentially I want the review to be in two parts - one how we functionally police football matches, how we gather intelligence, the flexibility of our deployment practices, how we manage risk at football matches.
"But equally importantly how the policing of those football matches feels, the tone and presentation of them, so we'd be very keen that the person we're going to commission speaks to a range of stakeholders involved in football matches, everything from SFA to SPFL right through to some supporters' clubs and football clubs themselves."
One person was taken to hospital after falling from a wall while four others were treated by first-aiders at the scene following the crush on Sunday September 2.
Celtic FC apologised for the incident and has held talks with police about what happened.
The club has also ordered an independent review which will look at factors such as what may have contributed to the incident and improvements that could be made to stop anything like that happening again.